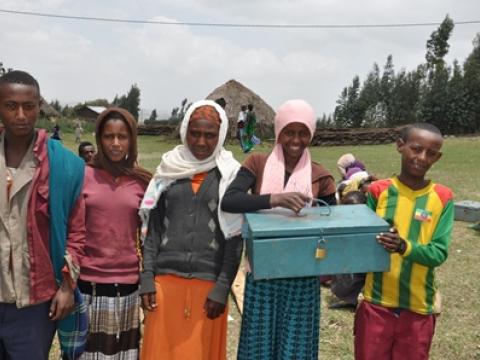 The Money Generating Box
World Vision's Saving Group Approach has been benefiting tens of thousands of children and families across Ethiopia.  A case in point is the 269 saving groups of 4,821 members in Angolela District. These saving groups has mobilized 1.5 million ETB and disbursed 827,000 ETB in loan.
Yezare Abeboch Saving Group is a special saving group of children established a year ago with 24 (13 girls) group members in the District.
Members of this group have been benefitting from the scheme in many ways. "Making the future better is the motto of our saving group," says Zenebe Gude, a 16-year-old boy and an 8th grader who is the Saving Group's Box holder. "I have received 350 ETB in loan from our saving group and bought four chicken, and resold it. I paid the loan, bought some educational materials and now have one hen and seven small chickens," Zenebe adds.
Lemlem Alemu, a 14-year-old girl and a 7th grader is also member of Yezare Abeboch Saving Group. She borrowed 200 ETB from the saving group and doing chicken business in her spare time. "I paid back the money I received in loan timely, bought some educational materials and now I have 2 hens and 2 small chickens. I will receive more money in loan and do more business," says Lemlem.
Luckily enough the saving group is managed to distribute 8951 ETB as dividend in its first round; among its members. This saving group is not limited to money saving but engaged in other social and advocacy activities. A month ago during the Easter holiday they bought 200 ETB worth cloth to two orphans. Also they bought 300 ETB worth government bond in support of the Ethiopian Grand Renaissance Dam.
World Vision Ethiopia has managed to facilitate the establishment of over 1,072 saving groups with 21,014 members and mobilized 3,903,547 ETB while benefitting 51,000 children across Ethiopia since 2013.