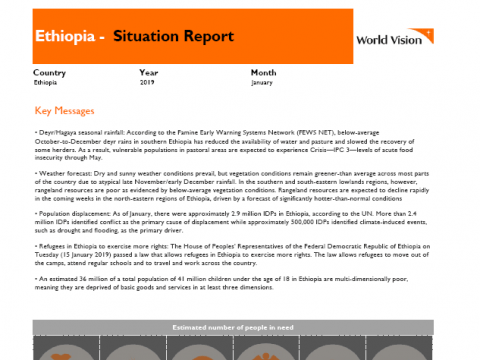 Ethiopia - January 2019 Situation report
Wednesday, March 6, 2019
Deyr/Hagaya seasonal rainfall: According to the Famine Early Warning Systems Network (FEWS NET), below-average October-to-December deyr rains in southern Ethiopia has reduced the availability of water and pasture and slowed the recovery of some herders. As a result, vulnerable populations in pastoral areas are expected to experience Crisis—IPC 3—levels of acute food insecurity through May.
Weather forecast: Dry and sunny weather conditions prevail, but vegetation conditions remain greener-than average across most parts of the country due to atypical late November/early December rainfall. In the southern and south-eastern lowlands regions, however, rangeland resources are poor as evidenced by below-average vegetation conditions. Rangeland resources are expected to decline rapidly in the coming weeks in the north-eastern regions of Ethiopia, driven by a forecast of significantly hotter-than-normal conditions
Population displacement: As of January, there were approximately 2.9 million IDPs in Ethiopia, according to the UN. More than 2.4 million IDPs identified conflict as the primary cause of displacement while approximately 500,000 IDPs identified climate-induced events, such as drought and flooding, as the primary driver.
Refugees in Ethiopia to exercise more rights: The House of Peoples' Representatives of the Federal Democratic Republic of Ethiopia on Tuesday (15 January 2019) passed a law that allows refugees in Ethiopia to exercise more rights. The law allows refugees to move out of the camps, attend regular schools and to travel and work across the country.
An estimated 36 million of a total population of 41 million children under the age of 18 in Ethiopia are multi dimensionally poor, meaning they are deprived of basic goods and services in at least three dimensions.
For more information, read or download our January 2019 situation report.