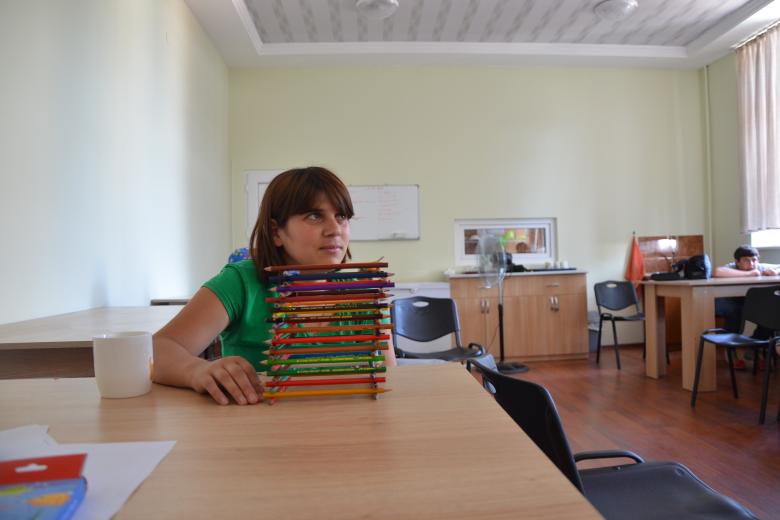 Education increases the chance of escaping the cycle of poverty
Monday, September 8, 2014
"I felt accepted by teachers and children around me," says Mari ( name is changed), 14, as she speaks about her first experience at the World Vision's Crisis Centre for children living or working on the streets in Tbilisi. "It was a great feeling, a feeling I had never had before."
Mari had never attended a school or any kind of formal or informal classes. She says she never even had any friends.  Her story is not unlike the other children who come to the Crisis Centre, many of whom with stories of harassment and isolation.
When she first came to the centre, her appearance: dirty, worn clothes and head full of lice scared even the other children who had also come off the street. At first they refused to be in the same room with Mari. After the teachers intervened, the children agreed to attend class with Mari but no one wanted to sit by her.  
It was the challenging situation for the trainers, who wanted  Mari feel comfortable during the class but also needed to deal with her hygiene.
"We succeeded in this challenging situation," remembers Mariana Khundzakishvili, World Vision's Education Specialist at the Centre, a few months later. "Fortunately [this experience] became the beginning of Mari's transformation. After two Life Skills Training classes,Mari cut her hair. [Today], she wears clean clothes and she is not rude to other children. The other children have also changed their attitudes towards her," she adds.  
World Vision's Daycare/Crisis Intervention Centre was established in Tbilisi in 2014 to give children living or working on the street access to essential services and a safe and caring environment, ensuring that their rights to health, education and protection are protected.  The Centre accommodates 30 vulnerable children each day. Most return to their families in the evenings. But, when needed, the centre has capacity to provide 24-hour care for up to 10 children at a time.  
Inclusion of these children in education as early as possible has proven to be an effective way to support their development and to give them a significant chance of escaping the vicious cycle of poverty. In response to the children's needs, World Vision developed a Life Skills curriculum for children on the street based on games, role play, interactive teaching and thematic move screening among other tools which is followed by every Street Children Crisis Centre in Tbilisi.
 In the centre, children learn to read, write and count, also acquire appropriate hygiene skills. The teachers guide the children and ensure that the rules of behaving properly in society are adhered to and that the children are taking care of others.
When she came to the centre, Nino, 16, had never been to school. She didn't know how to read or write. She did, however, know how to count; a skill she had developed and refined from her years of begging on the streets or selling icons.
"I enjoy the studying process very much," she says. "I want to become the veterinarian," she shares, looking at the ground as through she expects her dream to conjure ridicule.  
Another student, 14-year-old Giorgi, speaks with great excitement about how he can read small stories already.
Most of the children staying in the centre have never attended school. Their stories are unique but poverty is a common theme. Many didn't have time for school as they had to beg to help support their families.
At the centre, they are embraced a friendly atmosphere, given a nutritious meal and supported by teachers who are willing to give them as much help as possible in an effort to help change their attitude towards education.
For most, learning new things every day gives the children hope that one day they may be able to leave the street.