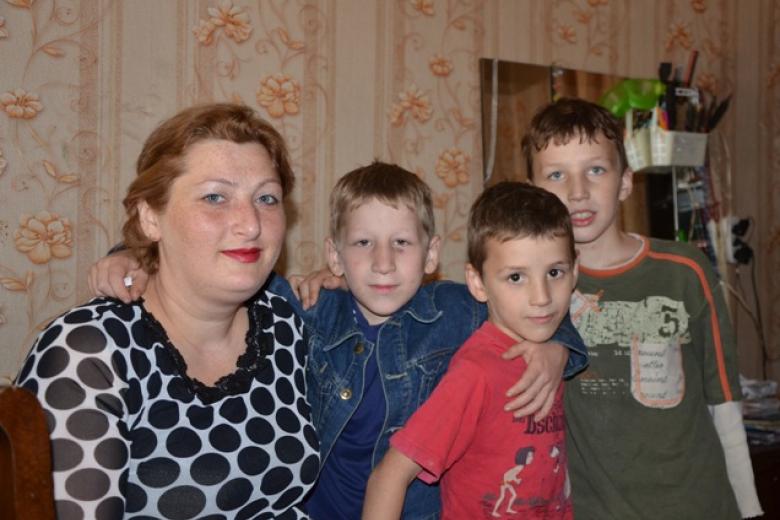 A ray of sunlight for an exhausted mother
Tuesday, December 3, 2013
Having five children, one of whom with an intellectual disability, is a load for any woman to carry. Coping with financial problems in addition to the day-to-day duties of being a mother to a child with special needs would impose physical stress on every woman. Nino, 37, is now seeing the impact which  years of stress has had on her. She longs for a wise counsellor to come alongside and help her face her fears and deal with her depression. "I always wanted to talk to someone about my problems, to share my fears and to listen to their competent answers," she says.
Thankfully, five months ago she began to receive professional psychological support, provided by World Vision. The support and advise they have given have helped her face her struggles and change her attitude towards her family members, especially towards children. "When you are stressed, you cannot control your emotions and it is reflected on children," she says, looking back.
  "Now, I try to follow the recommendations of my psychologist,   try to be closer to my children and not look at them as burden, but as gift from God," she explains.
 As a support to vulnerable single mothers, World Vision's Day Care Services identified the need for psychological support for many of the mothers where qualified and experienced psychologists asses the women's' individual situations and them provides them with relevant support. "This service is aiming to support the psychosocial development of the vulnerable single mothers and pregnant women," says Marina Menteshashvili, the Day Care Services project manager.
 World Vision began working on Nino's case about five months ago. When Nino's family's situation was evaluated, experts identified that she needed both psychological and job-related assistance. Also, in addition to the heavy burdens she was carrying as a single mother, her self-esteem was very low and her financial situation did not offer her opportunities for development.  
"Despite of her difficult emotional situation we saw so much energy  and willingness to work in her," remembers Marina.  "Together with psychological assistance, we provided her with Employment Service which is another component of the project which aims to improve the project beneficiates' economic conditions and ensures their sustained financial independence."  "
 To help improve her future income opportunities, World Vision provided Nino the opportunity to receive training as a hairstylist and also bought all necessary equipment for her to work as hairdresser.
 After participating in the three-month hairstyling training course, Nino began working at home. She even plans to increase her business and in the future to build small saloon in front of her house. "When my relatives saw that I earn money from hairstyling they decided to help me in building a small salon," says she happily.
 "I am very happy when I see that Nino is struggling for a better life, she does not have as many emotional problems now. I always tried to convince her to think positively, to be happy for her children and treat them with love," said project psychologist.  "Nino still needs [on-going] assistance but her progress is vivid as her family members admit as well," she added.
 Nino feels much better now and improvement of her emotional and financial situation makes all her family members happy.