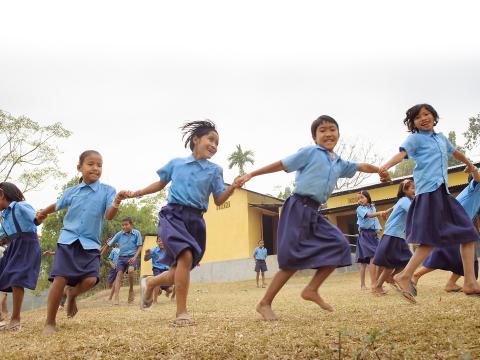 In Depth
Resources to learn more about our approaches to ending violence against children.
Violence in the Kasai region was escalated from 2016 to 2017 and although peace has mostly returned to the region, the effects still linger.  This report is based on interviews World Vision conducted with more than 100 children living in the aftermath. The stories they shared are alarming, but unfortunately, not surprising.
This report provides a snapshot of what's possible to end violence against children on the move. Some of the proposed solutions have been tested across multiple contexts, others are more specific to the places they have been applied. Many of them can be replicated and, if scaled up effectively, have a real impact on preventing, mitigating and responding to violence against children. 


The health sector has a vital role to play in ending violence against children. This review assesses alignment between 24 countries' national health policies and the WHO's Global Plan of Action to strengthen the role of the health system within a national multisectoral response to address interpersonal violence, in particular against women and girls, and against children.
What Works To End Violence Against Children? Seven Things We Have Learned
Preventing and addressing violence against children is an urgent and complex task, but it is possible. Over the past five years, a strong evidence base has emerged around a number of interventions and a set of strategies that can effectively reduce and eradicate this problem. This report looks at seven key lessons we've learned while working to end violence against children. 
This report was photographed and written by 21 children and young people, aged 13 to 18, who are part of the World Vision Young Leaders project, which aims to equip and empower them to engage in actions to end violence.
Creating and scaling up the necessary solutions to put an end to violence against children will require much greater, and much more effective, collaboration across sectors of society than has been seen before. This report outlines why businesses are a vital campaign partner. 
For the first time, this report provides an estimate of how much international aid was spent to end violence against children in one year, based on the latest data available. Civil society partners that collaborated on this report were World Vision International, SOS Children's Villages, Save the Children and ChildFund Alliance. 
Every year, violence affects more than one billion children, in every country and every community. It robs them of their dignity, their rights, their potential, their future and, too often, their lives. If we don't end violence against children, we risk jeopardising the progress and losing the investments made in child survival, health and education, as well as overall economic development. But it doesn't have to be this way.
Click here to read the report.
World Vision has worked with Syrian children since the war began in 2011. Leading up to the sixth anniversary of the conflict, we asked them to share their fears and dreams with us. We also spoke to children in relatively safe countries to better understand how exposure to violence can influence a child's view of the world and their ability to remain hopeful.
We found many childhood commonalities and a heart-warming amount of empathy. But as one might expect, the most startling contrast was that Syria's children live in almost constant fear of violence and have been thrust into adulthood much too quickly.
Click here to read the Fears and Dreams report itself and here for the website we created with the highlights. 
Improving information and accountability for eliminating violence against children.
Click here to read the report.
Despite the magnitude and entrenchment of violence against children, evidence increasingly shows that it is a problem that can be solved.
Click here to read the report.
This paper explains World Vision's understanding of a systems approach to child protection, its concept of a child protection system and key implications for programming.
Click here to read the report.
As a child-focused organisation, World Vision agrees that everyone should have the opportunity to benefit from economic growth, but most importantly, we believe that economic progress should never be made at the expense of a child.
Click here to read the report.
Nearly one-in-three girls in developing countries will marry before the age of 18. This report explores early marriage in fragile states.
Click here to read the report.
A survey led by World Vision and Ipsos Reid reveals that people around the world think violence against children is a common and growing problem.
Click here to read the report.