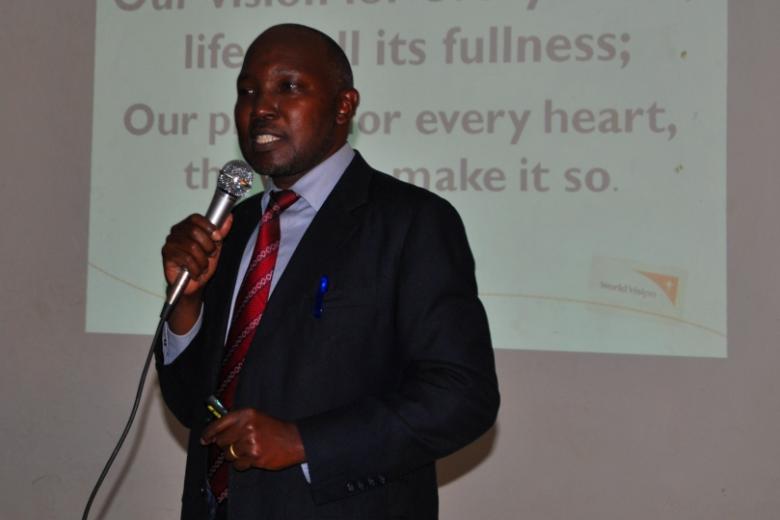 Bob challenges WV Malawi staff to move from good to great
Monday, June 2, 2014
By Lindiwe Bandazi
National Director of World Vision Malawi, Robert Kisyula has affirmed that the Malawi national office is strong in its capacity and can effectively reach child well being targets especially if its builds a culture of disciplined people that can progressively move from being good to being great.
The director made this statement during a state of the union speech during the operations Indaba forum that was held from 12th to 16th May in Lilongwe.In the state of the union speech, Kisyula drew inspiration from the 'Hedgehog concept of good to great' by Jim Collins, an internationally acclaimed business consultant and author to arouse and confront World Vision Malawi staff to critically examine themselves in reflection of World Vision's imperative mandates.
"As an office we need to know what we are good at and stick to it. To do that we need discipline" he urged while dwelling one concept of 'good to great' that challenges leaders to confront the brutal facts in order to make progress.
He pointed out that as the office takes stock of the last 6 months of its operation during the indaba it was important to seriously take into account areas in need of improvement and to reflect on them together with commitment.
Some areas of the areas of concern he highlighted included: demonstration of value for money, project management and execution, stewardship over resources, and improvement of grassroots presence.
"Let us remember that our core documents distinguish us from anyone else, who we are, our mission and Vision" he reminded while imploring all staff to strive to have a shared understanding of where the organization is going as he quoted one of his favorite bible verses: two cannot walk together unless they agree. (Amos 3 vs. 3).
The Indaba drew all managers from all regional offices and ADP'S under the National Office and some project specialists who all sat down together with the aim to promote and deepen corporate commitment of WVM towards delivery of Child Well being outcomes by sharing and reflecting on strategies.