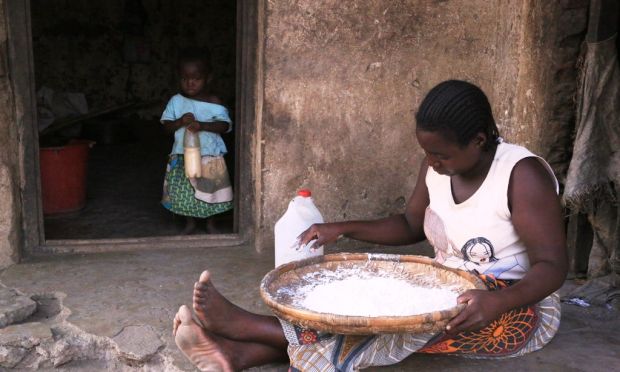 In January, I was deployed to the World Vision Malawi Flood Response. Hundreds of thousands of people who were affected and they needed assistance including food. Nine months later, I found myself back again in the Lower Shire region where World Vision has joined the World Food Programme and the Malawi Government to respond to yet another disaster. This time, there is a drought which has resulted into a food crisis. The cycle of food insecurity is heart breaking, it has left people hopeless and for people like me I wonder what Malawi, and indeed Africa will be.
God called me to serve through World Vision and I must confess, the two years I have been in the organisation have been an extremely good challenge.Throughout this brief spell, I have travelled my country gathering inspirational and life changing stories about the work that our organisation is doing with people in some rural forgotten communities. I call them forgotten because in some instances the people I meet are far off the city. They live their own life, face their troubles, suffer in times of disaster and celebrate the blessings that God gives them. They are happy people amidst all the uncertainty that life has become.
I recently travelled to Chikwawa district in southern Malawi. I met Joyce, a single mother. She is divorced and is fending for her five children and a grandmother.  Like many other women in rural Malawi, Joyce has no formal education and as such she has no job. Her life depends on piece works in people's farms in an effort to make ends meet. It is such a tough life very few can imagine.
The day I met her, she had just returned from the hospital where they had just diagnosed her with malaria. Sick, Joyce walked a round trip of 20 kilometres to get medication.She was sad and looked sick. She was sad not because she was sick, but rather over what this sickness meant to her children and the family as a whole at a time when food is not so easy to come by.
"We only have flour to last us tonight," she said, crest fallen. She took me into the house where I saw her maize flour storage facility that was indeed empty.
She looked hopeless and helpless.  "I have been going around looking for piece works but have not found any," said Joyce. She revealed that for working in people's gardens she gets about one thousand kwacha (which is equivalent to one US dollar and some cents) for tilling a quarter of an acre. It takes her two to three days to finish tilling that piece of land.
There is acute hunger not just for her but many other people in her village. "Most of the people we depend on are also hungry this year and as such they cannot give us any work,"Joyce added while helping her daughter drink something that looked like 'thobwa' (sweet beer) but I later learnt it wasn't that. It was actually porridge that had been cooked in the morning and since it got hard, she just added water and re-boiled it to serve as a meal for little Tereza. That was her lunch. "The others have eaten porridge at school," said Joyce before adding, "So we will save the flour for tonight."
I couldn't stay there and keep looking at little Tereza struggling to swallow this unknown drink served to her as a meal. It was too much for me. I looked into her eyes and saw it all. Without uttering any word, it was as if she was telling me, 'so what will you do about it?'I was moved.
As I was about to go, Joyce stopped me. She ran into her dilapidated house and came back with a cup of water. "I have nothing to give you but please have this water and go well." My already broken heart was torn to pieces. Here was a woman with a very big heart, who amidst her poverty and suffering still thinks of giving.
I remembered of my meeting with the community's chief, Traditional Authority Kasisi earlier on as World Vision joined World Food Programme and the Malawi Government to launch a food aid response that will benefit nearly three million Malawians. He said words that got engrained in my heart.
"We people of the Lower Shire region are not beggars. We work hard in our gardens for our children and our own well-being but it is always floods or a drought that comes and damages what we have sweated for. We are not beggars," he emphasised with emotion.
Remembering the chief's words and meeting Joyce challenged me. I thanked her for the water and we also prayed for her quick recovery. We prayed that she should find her feet during this uncertainty and that God heals her so that she can work for the family. We said our good bye but my heart remains with her and many other women and old people in the region who are going through this trying period.
My heartbreak is not because Joyce is hungry and that she is finding it difficult to feed her children. I am sad that Malawi has to oscillate from one disaster to the next and yet, we have not learnt anything. Malawi is endowed with lots of fresh water sources that run all year round, but cannot produce enough food for her people. Communities still depend on rains for agriculture.
As a believer in God, I find it hard to believe. With such blessings, I am heartbroken that we have failed to put to good use that which God has blessed us with. However, we still have a chance. Governments and donors should invest in building resilience through short and long term interventions such as water harvesting and irrigation farming. This could be one solution to this cycle of food crisis which will get worse because of climate change.