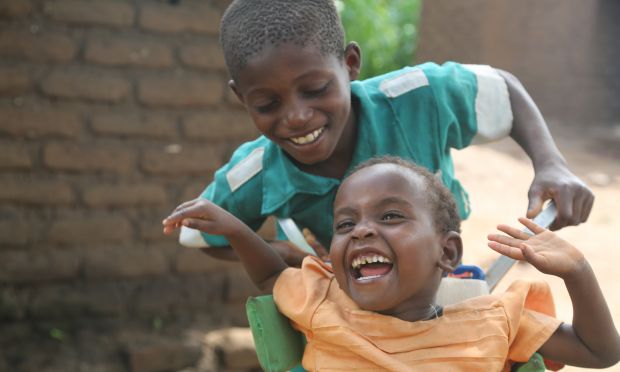 In this remote village with bumpy roads and a handful of beautiful tiny hills, there is a boy called Yonasi. Across the small streams and over the hills lush with green, Yonasi is sharing his dream of getting an education with his niece Zinenani. For the past year, Yonasi has been pushing his niece on wheelchair to an Early Childhood Development (ECD) Centre in the village where she is learning how to read and write.
Born in 2011, Zine, as she is popularly called by friends and family, is always full of smiles. She has cerebral palsy, discovered a few months after she was born. With this neurological disorder caused by a non-progressive brain injury or malformation, Zine cannot walk, hear or talk, says clinician at the Providence Industrial Mission (PIM) hospital where she has often been taken to for medical assistance. At Queen Elizabeth Central Hospital, Doctor Nyirenda says that often, this Zine's condition occurs while the child's brain is under development.
However, her mother says that she hears, though with challenges. "When you call out her name, she looks at you and smiles," she says.
Sadly, with her physical and mental condition, Zine was unable to start pre-school until she was aged five. While her age mates would be walked to school, her mother felt she was not ready. When she was eventually started in 2015, Catherine reports that she only went to school for a few days. She always carried Zine on her back for the 1.5 kilometres to Malindi Early Childhood Development (ECD) Centre where she learns.
"When I was busy in the garden or going out somewhere, I left her home, locked in the house," reveals Catherine. "Of course when she was young I would carry her on my back on my trips, to Church and even the village market," she adds. Besides, Zine did not often enjoy her childhood. She could not go out or play with her peers as she cannot seat on her own and sleeps instead.
While treatment and therapy help manage effects on the body, this was a farfetched dream for her mother. Zine, staying over 50 kilometres away from Blantyre, Malawi's Commercial hub and where one of the country's premier hospitals, Queen Elizabeth Central Hospital, is based, her mother says they never afforded to meet a doctor until 2015 when World Vision facilitated their trip the city and the best hospital.
"I had never thought of going to Queens", she says. We would never have managed the treatment. Queried on Zine's father, Catherine fails to respond. Her friend Malita chips in to say the truth. "He abandoned them when he realized that she had a disability". They look at each other in a moment and go crestfallen.
At Queen Elizabeth Central Hospital, Zine, was attended to by Doctor Nyirenda and his team of physicians. She made the trip along with 58 other children supported by World Vision.
In the end, she was prescribed a wheelchair. Catherine was so sad when she heard that her child needed a wheel chair. "I knew she needed one way back", she recalls telling doctor Nyirenda. "But we can't afford it doctor. I don't have the money".
As if they had not heard her clear, medical staff went on to take measurements of Zinenani to determine the size of wheelchair suitable for her. It was in the end that the doctor told her that World Vision was giving them a wheelchair through the hospital.
"You won't pay anything. All you will have to do is taking care of the wheelchair and Zine", said the doctor to Catherine's amazement. That day, they went back without a wheelchair anyway.
Two days later, Catherine was called for a meeting at the Chief's ground where World Vision had brought Doctor Nyirenda and his team. There were wheelchairs too. After sensitizing them on the need to give physically challenged children a chance like any other child, she was given a wheelchair with instructions on how to use it and the minor repairs she would make on her own in the village.
"I was so excited to own a wheelchair for my daughter", she says. "And when I brought it back home, Zine was happy and comfortable in it too".
One by one, Zine's number of friends began increasing. Now that she had a wheelchair that could be easily moved around, they were happy and ready to involve them in their playing.
But of all her friends, it is Yonasi making a lasting difference. He takes her to school so she can read and write. He wakes up early in the morning to ensure that Zines's mother has prepared his niece for school.
"At first I used to be late for school but now I start off very early," says Yonasi who is in standard four at the popular Mbombwe primary school. Such is the case because this is the village of Malawi's first fighter for independence, Reverend John Chilembwe.
Often silent, Yonasi is smart at school. When queried on his dreams for the future, he says that he has none set forth other than getting a good job and supporting his family. And that is the main reason he goes to school and pushes the wheelchair for Zinenani too.
"Of course I want to be a police officer but even if that does not happen, I want us to get good jobs and buy food for our families and medicines for those sick", he says with a wry smile at oner corner of the mouth.
At Queen Elizabeth Central Hospital, Doctor Nyirenda is happy with the impact that wheelchairs make in the lives of people, especially children.  "We produce our own wheel chairs to ensure that we service our clients very well," He said. "But once resources run out, what do we do? We are a government hospital and it's difficult to get hold of resources," complained Nyirenda as he thanked World Vision for mobilising the resources. "You can see the mother and child are happy and even her friends home are also be happy that their friend can move around with them," added the Doctor.