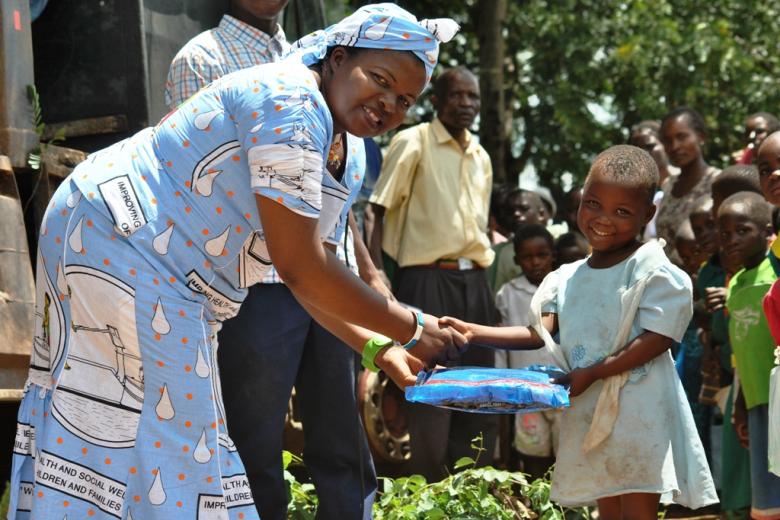 A mosquito net to each needy child
Wednesday, April 2, 2014
World Vision Malawi's Senzani Area Development Program has distributed three thousand treated Mosquito nets worth 11 Million Malawi Kwacha to needy children in the ADP.
Speaking during the anti-malaria campaign launch in Matale Village, Eliza Kwelepeta, WASH, HIV AIDS, Health and Nutrition Coordinator, said that the Organisation decided to distribute the mosquito nets cognitive of the threat malaria has on their attainment of child well being aspirations.
She also said that most families in the community cannot afford a mosquito net bearing in mind the poverty levels prevailing in the community.
Eliza said: "Last year, we lost nine Registered Children from Malaria. We distributed nets and so far only one has been lost. The nets had a very good impact and we believe that these will also do good and can eventually record zero malaria-related deaths in the future,".
She also committed World Vision's support to the fight against malaria in the ADP.
World Vision's 20 year stay in Senzani community has made tremendous improvements in as far as health issues are concerned.
WV and Malawi Government concerted efforts have seen malaria prevalence rate dropping to 28 percent from 75 in the early days of the ADP.
And in her remarks, Health Surveillance Assistant for the community, Esnart   Lumani, thanked World Vision for the mosquito nets which she said will help ease malaria cases.
She also hailed World Vision for the continued health support in the community which has made it possible for many vulnerable children to get medical support.
"World Vision has been a true partner. Not to us as health workers, but to the children who we serve every day. They have built our capacity as health workers and provided several other resources that have benefited the children who we serve.
"The Government on its own cannot manage all this, and we are very thankful on behalf of the people who we serve," said Esnart.
Paul Subiri, a known musician in Balaka, whose Allelluya Band accompanied World Vision in the distribution exercise, echoed World Vision's call and urged the people to sleep under the mosquito nets all year round and avoid selling.
Malaria remains one of the deadliest killer diseases in Malawi.