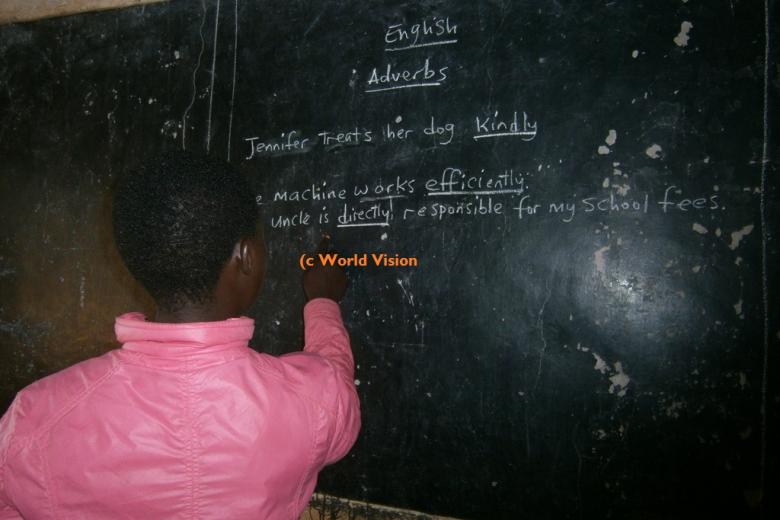 Phalombe children vow to continue advocating for rights
Tuesday, September 15, 2015
Children from communities around Phalombe district in southern Malawi where World Vision has successfully implemented the Lake Chilwa Child Protection project have vowed to carry on with advocacy activities for their rights. This was learnt during a filed visit by various child protection officials from different National Offices attending the Child Protection Learning Lab in Malawi.
Primary School students from Nambazo Primary school said that since their group was formed they have worked hand in hand with different child protection structures to help their friends victimized in different ways to return to school.
Similar groups are also operating in nine other primary schools and a Community Day Secondary School that are in the community
As a club, the lads have also been sensitizing people in the community on children's rights as expounded in the Malawi constitution and the Bill of Rights. This followed a successful translation of the Child Rights Care and Protection Bill into Malawi's native language, Chichewa. The process was spearheaded by World Vision.
"Since our club was formed we have been sensitising our friends to stay in school and work hard," said 14 year old Idah Makuta who is in grade seven and serves as Deputy Chairperson for the club, before adding that they have also aided some of their female friends who got pregnant to return to school and re-establish their futures.
Through their efforts, supplemented by the school authorities, the Victim Support Unit of the Malawi Police and the social welfare office, two girls have returned to school following successful deliveries.
"As a club, our role was to just convince them that everything would be alright if they returned to school," said Stella who serves as a committee member for the grouping that is now boasting over 50 active members at the school. "Once they accepted, our role was to talk to our classmates and tell them not to judge them but accommodate them and be as much supportive as possible.
With patrons present who were trained by World Vision and now overseeing the organisation of the groups and training the club leadership the clubs are bound to stay for time to come. Further interesting, senior members like 13 year old Faith Sejere who will be graduating from primary school in a couple of month's time, have begun grooming early grade members who will be taking over from them.
"We believe that through this, the group will be much more sustainable and stand the test of time," he said, with the Head Teacher, Mac Harris Chibvunde assuring the learners that the school will keep supporting them and ensure that there is always a patron to look after them and give direction.
The good efforts of Child Rights Clubs have not gone unnoticed with the Social Welfare Office for the district attributing the increased reporting of child rights violations in the district to the work of different stakeholders as well as the children themselves.
"The four communities where World Vision has worked and helped in the introduction and strengthening of children's rights clubs are far much different from the rest of the district," said Cedrick Saukira, Assistant Social Welfare Officer for the district. He further stressed that his office is working hard to sustain those gains and as well as replicate similar efforts in the other areas.
While celebrating their advocacy efforts that have seen them go as far as the fishing areas around Lake Chilwa to perform songs and other advocacy activities, the children have requested World Vision and other organisations to help them organise trips to other communities to see how their friends are doing the same.