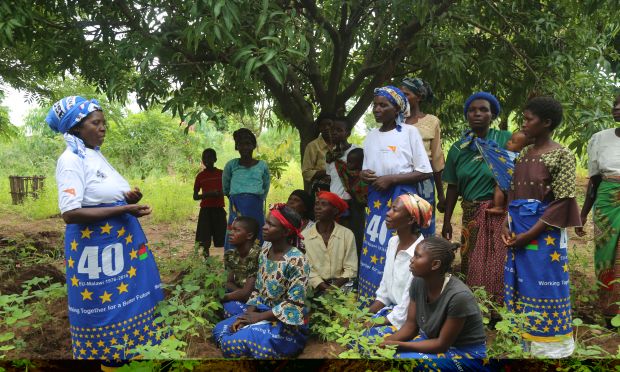 The darkness outside was contrary to the reading on the clock which said 5 am. Against the biting cold, Ella was already up, moving and making her fire to prepare breakfast for his grade five grandson Alfred who is still in bed and his snoring can be heard from this end. She says he slept late, preparing for his end of term examinations starting the following day.
With all the grass, often favoured when starting fire, wet, Ella has turned to plastic bags to make a fresh fire. She has failed to rekindle a fire from overnight embers. As the cock crows, Alfred wakes up and stands on the doorway, stretching, ready for another day too.
With the potatoes boiling on the fire, Ella quickly sprinkles water from a plastic plate across the mud floor of the kitchen and eventually sweeps the dampened earth with a brush of long but tiny sticks bound tightly together, a broom.
In this part of the world, the day starts early for women, and for Ella, here it had begun.
On the other end, Alfred has reached for the big broom; he is sweeping the ground, cleaning it off all the mango leaves that have dampened it as boys reached for ripe ones late yesterday.
From this house, Ella says that it is roughly 25 kilometres to the drying Lake Chilwa. This village and many others sit in what is popularly known as the Lake Chilwa basin. There are two big communities, Chamba and Mposa, well separated by the little giant, Chikala Mountain, and a handful of other small rivers that meander between them.
In this Chamba community, a handful of grass thatched houses can be seen from a distance, it is a community full of surprises.
While their colleagues on the other side of the mountain produce a lot of rice, a lot of people on this part, including Ella and her husband Filipo Zande juggle between farming and fishing.
Quickly throwing away the dirt collected from the kitchen, now looking smart, Ella says that fishing was the king of all trades years ago. To some extent, boats are even believed to have outnumbered men in this village. Every morning, the shores would be filled up by traders who came from neighbouring villages and districts to buy fish. But that is slowly fading into history. "The drying lake has forced many men to rethink of farming," she says.
But there is a problem, the trees are gone, rains are difficult to come by.
While poverty is as old as the community itself, Ella says that the drying lake has made matters worse. "We had people felling trees carelessly for sale and for firewood in the past", she continues as she walks into her house, this time to get salt for the potatoes that are boiling on the fire Briquette, a simple mbawula that uses very little firewood to burn and cook food. This is one of the many things they have learnt from the Children's charity, World Vision which has been working with them for the past year 18 months.
A few minutes later Ella walks into the house where she returns with a wrapper on one hand and a hard cover in the other.  She walks down the small steps and disappears to the other side of the compound, under a mango tree, where a handful of women and two men have gathered.
After an exchange of handshakes, pleasantries and greetings, one woman leads the grouping onto a narrow, often used, path to the bush, with songs on their mouth. After a 15 minute walk, the group arrives to an island of trees, surrounded by bald headed lands without any.
It is here that 52 year old Ella has made her footprints bright in the books of history to be likened to the iconic Wangari Mathai. Her dream of a community where women and children thrive and drive their community forward using conservation of forestry products has become a reality.
Through Budala Integrated Farming Group, Ella is helping Chamba community go green courtesy of a number of interventions aiding them save forests while generating an income at the same time.
A land that a few years ago was dry and seemingly barren is now brimming with life and moisture after the community planted trees and erected beehives to keep their trees safe.
If she could be asked whether their effort would turn their forest into one of the best man-made initiatives, Ella gives a quick 'no' that is punctuated by a headshake. But life takes us in unexpected directions. She says that their life has been transformed by an agroforestry model pioneered by Non Governmental Organisation, World Vision. "If the organisation had not come, we would have had no guiding person or knowledge that forests can give us money," Ella says.
World Vision, which arrived in Budala village in 2015, specializes in holistic development aimed at creating communities where children grow to reach their full potential also promotes climate-resilient agriculture.
Following a training, said Ella, the group Budala group was formed along with 10 other groups in Chamba community and they begun planting generic trees, fruit trees as well as bamboo depending on the amount of land they collectively had and their interests with the products.
Initially, the community had planted a few gmelina and other varieties of trees on a land that was given by the chief. But since 2015, the place has slowly turned into a forest. And soon, the true meaning of their work came to life.
All groups were also trained in nursery making and seedling multiplication as business and an investment for their community.
In addition to other skills, selected members also went through business trainings, especially on how they could market their forest products to fight poverty. "From the investment training we had right here in the village, we realized that we had been underutilizing our forest. While we were regretting the time lost, we were determined to make the most of the forest now that we had learnt", chipped in Ella, smiling.
 "At the end of the training in 2015, World Vision bought us 85 honey beehives", continues Ella. It did not take too long for the group to realize that they had indeed been seating on gold.
At the end of the year 2016, the group produced 108.3 kilograms of honey. Out of this, 95.5 kilograms were sold for 570,000 Malawi Kwacha. Every member went away with 15,000 kwacha and they now look forward to the next cycle with an increased number of beehives. Part of the money was used to procure a motorized pump to be used in their irrigation project commencing at the cut-off point of the rains in April.
In her 52 years of living, Ella says she has realized that Malawi is not poor. She urges women to change their mindset and think different to transform their own lives. "We need to capitalize on what we learn from our government, our NGO partners and everyone to transform our lives. We should not sleep over what we learn and think that we will change just by hoping".
"In these villages, women often depend on their men who go to the lake on fishing errands at Lake Chilwa", says, plantations Manager in the Machinga District Forestry office, John Munyani, as he helps one of the women prune a tree.
Sadly, the salty Lake Chilwa which has no water outlet is drying up. Munyani further says that it is a culmination of climate change factors and the dwindling rainfall levels which have been worsened by charcoal burning and other processes along the communities that surround the lake.
He further says that the efforts that are coming with the Empowering forest dependent communities through commercialization of small-scale forestry project are giving hope that the Lake Chilwa basin may be saved in the long run since communities are realizing gains from taking care of forests.
"These efforts do not only benefit these families here in Chamba", he said. "They safeguard the lake Chilwa watershed and in the end safeguard the lake which is a significant source of income for people in Machinga, Zomba, Mulanje and Phalombe districts".
Because of charcoal burners and other domestic uses, experts say Malawi loses nearly 200 square miles of its forests annually, a deforestation rate of 2.8 percent. According to authorities, Malawi is ranked as number four in terms of global deforestation and number two in Africa.
Sadly, as the country lies in need, the only remainder of its forests is going as desperate men, with children to send to school and families to feed have once again reinforced their dependence on charcoal as the only hope in this time of adversity.
World Vision's Programs Manager for Zomba and Machinga districts, Loyce Mkuzi says that it is a joy to see that communities have received messages of forest conservation with open hearts and willing to adopt change.
"It is not always that people turn out for projects with such open minds, work hard without handouts and remain patient until fruits start coming out," she said.
According to World Vision Malawi's Food Security Manager, Francis Kasangu, the organisation's forestry initiatives aim at contributing to poverty alleviation through sustainable use of forest resources by forest-dependent communities while empowering them to engage sustainable participatory forest management and conservation.
For this reason, says Francis, World Vision is running various initiatives tailored to the needs of the communities of implementation. Apart from the trainings conducted, leading to the formation of forest conservation groups, Kasangu says that the organisation has produced training manuals in these modules that have been translated to Tumbuka and Chichewa so that the communities can use as reference materials.
"Form these trainings, communities have formed different groups that are producing honey, Chitetezo mbaula and Briquette Mbaula, cooking stoves, Gasfires, Bamboo orchard establishment, individual and school fruit orchards and other initiatives", he says.
Empowering forest dependent communities through commercialization of small-scale forestry project is a three year initiative implemented by World Agroforestry Centre (ICRAF) and World Vision with funding from the European Union (EU). The project is implemented in seven Forest Reserves (FR) in Mzimba (Perekezi Forest) and Karonga (Karonga Escarpments and Vinthukutu) in northern Malawi; Dedza (Mua-Livulezi forest) and Ntchisi (Ntchisi Forest) in central Malawi. In the Southern region, the project is being implemented in Machinga (Liwonde forest) and Chikwawa (Masenjere forest).
With the group members earning something, on top of sharing some of the money for their domestic use, Ella says that there is an air of optimism amongst themselves.
"The turn up for women is very excellent as everyone knows that if we work well, we will earn something good at the end of the day", says Ella.
Through their earnings, the group has also procured an engine pump to be used during their winter cropping commencing in the month of April. "This is why we decided to call ourselves an integrated farming group. Because we are doing more than taking care of the environment and producing crops", said Ella, smiling.