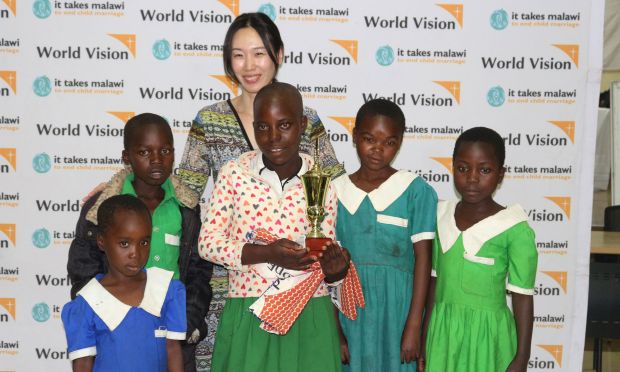 By Charles Kabena and Wezzie Gondwe
After a full day of viewing 10 pavilions, 13 judges drawn from World Vision's  Support Offices, United Nations in Malawi and Malawi Government, it was unanimously agreed that Unlocking Literacy, as presented by 12 year old  Bridget, is both the present and the future.
The gathering unanimously agreed that Bridget is living proof that, given opportunity, children can lead, even today.
All this happened on 26th November during World Vision Malawi's 2018 Annual Learning Event (ALE) which tried to assess and celebrate Area Programs ability to innovate and effectively interpret the organization's 'Our Promise 2030' strategy in their implementation of projects that respond to needs of children and poor communities.
The Standard 6 learner, inspired by World Vision Malawi's  Unlocking Literacy initiative that promotes out of school learning through fun activities, decided to open her own 'Reading Camp' behind her grandmother's Kitchen in Mpherere, Ntchisi district. From there, for two years, she has been gathering her friends to teach them basic literacy skills.
But before she changed her friend's stories, she remembered that charity begins at home. Bridget has successfully taught her father, Fraser, how to read and right in Chichewa, her national language.
Today, her father, Fraser, a local builder, is reaping gains courtesy of the new literacy skills passed gained from her daughter.
"Learning how to read and write has enabled me to excel in my construction business and support my family. At first it was hard to do read the measurements or write something for my clients, but with the help of Bridget, I can now do all that smoothly" says Fraser, smiling.
Bridget says she is happy she is making a difference in her community. That is all the shy looking 12 year old is proud of. Her smile comes and goes in a speck of a second. She still had to lead her four friends and Teacher to the podium to lift the biggest trophy of the day.
"This award has encouraged me to continue teaching my friends how to read and write. I enjoy teaching them and I will continue doing," said Bridget.
Speaking on behalf of the judges, Agnes Muvira- Kilomera said the child led literacy promotion, stood out because of its involvement of children and how it is impacting children and their community.
World Vision Malawi Director of Programs said it is through spaces like these that World Vision as an organization  can reflect, celebrate and learn how  it is  measuring up to its  commitment in bringing change to the lives of the most vulnerable children of Malawi.
"Today we have reflected on our work as a Christian Organization that has been working in the country since 1982. We are an organization that believes in learning and today, we had this opportunity to reflect on our work and celebrate the contributions we are making towards supporting the Malawi Government in improving the lives of children," said Charles Chimombo.
Other interventions that were showcased were; Care Group cooking demonstrations using local foods, Farmer Managed Natural Regeneration that has enabled Pastors from Neno to embark on holy wine making using honey from local producers, organic farming for agricultural productivity, learner to learner hygiene behavior change promotion, Social Accountability and Responsibility through Citizen Voice and Action, Food For Assets interventions as well as Data Management for Child wellbeing impact.