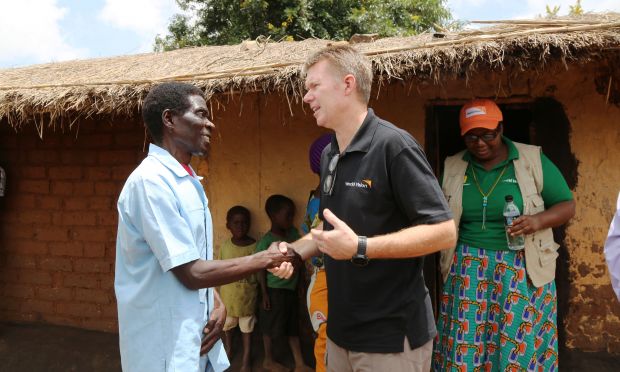 Regional Leader for World Vision in Southern Africa, Mark Kelly, has commended Malawi for a robust community-driven primary health care system which enables other partner organisations investing in health care to reach the last mile communities with health support.
Kelly said this on Tuesday in Dete village in Lilongwe where he went to monitor immediate impact and officially close World Vision's mass campaign on the distribution of treated mosquito nets across the country.
"Primary health care is an essential element of any country to attain its Sustainable Development Goal number 3 on good health and wellbeing", said Kelly, on a day that World Vision celebrated distributing over 10.6 million mosquito nets across Malawi's 29 districts.
Malawi is among the countries that must be recognized for efforts towards universal access to health care as a result of the village clinic structures.
Having stayed in Zambia and worked in the humanitarian world for a number of years, Kelly added that he has been a keen follower of prior work by World Vision in strengthening local systems and structures that promote health and nutrition of Malawi.
"I have observed the immense opportunities available to strengthen these local systems and structures so that they can perform effectively", he said.
On the successful implementation of the mass campaign, Kelly registered World Vision's gratitude to the Global Fund for prioritizing Malawi as one of the recipients of the Malaria, HIV and AIDS and TB.
"We are thankful to the Government of Malawi and the Global Fund Country team for selecting World Vision to be the principal recipient for the Malaria component of the grant", said Mark who further stressed that his organisation's aim was to distribute the nets before the rain season which has been achieved.
In his remarks, Health Surveillance Assistant (HSA) for Nkhoma Mission Hospital, Phillip Kodondola said that execution of the mass campaign was complex, involving a number of stakeholders in the village.
"But in the end, we are happy that children and families have nets and we will continue with sensitizations on usage", said Kodongola.
World Vision worked through the ministry of health structures from national, district to village clinic level, capitalizing on the existing primary health system of the country.
Across the Southern Africa Region, World Vision in Malawi, is amongst three countries, including Mozambique and Angola, which have been involved in the fight against malaria and net distribution from Global Fund.