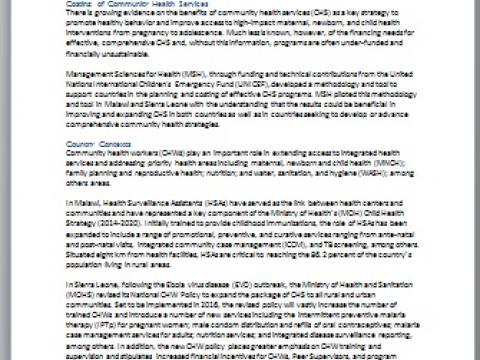 TECHNICAL BRIEF: COMMUNITY HEALTH SERVICES COSTING AND PLANNING PILOT IN MALAWI AND SIERRA LEONE
Friday, November 11, 2016
There is growing evidence on the benefits of community health services (CHS) as a key strategy to promote healthy behavior and improve access to high-impact maternal, newborn, and child health interventions from pregnancy to adolescence. Much less is known, however, of the financing needs for effective, comprehensive CHS and, without this information, programs are often under-funded and financially unsustainable.
Management Sciences for Health (MSH), through funding and technical contributions from the United Nations International Children's Emergency Fund (UNICEF), developed a methodology and tool to support countries in the planning and costing of effective CHS programs. MSH piloted this methodology and tool in Malawi and Sierra Leone with the understanding that the results could be beneficial in improving and expanding CHS in both countries as well as in countries seeking to develop or advance comprehensive community health strategies.
Shared within the 15 November Harmonisation in Action Workshop at HSR2016.