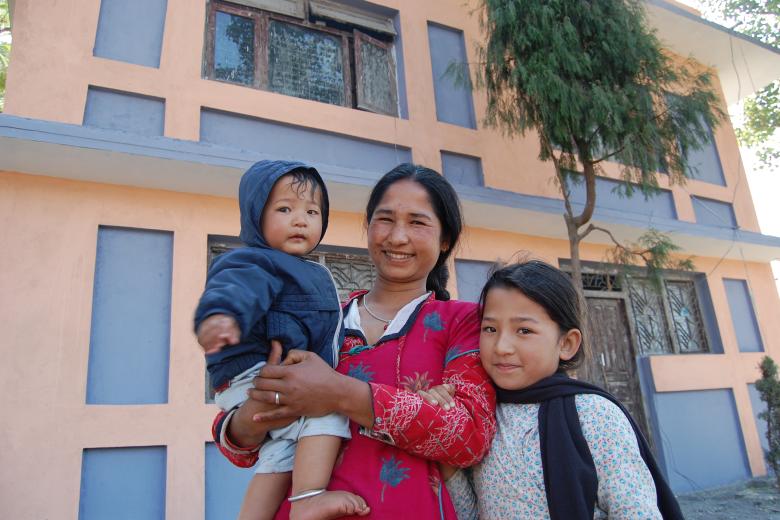 Safer abodes for children
Tuesday, January 20, 2015
"If there is a big earthquake the people affected around this community can come to the health post for medical help and it can also be a safe place for children and older people to take shelter," says Rita Shakya, a local resident when asked what it means to have a retrofitted health post in place for her community. 
In Bungmati Village, World Vision funded the seismic retrofitting of a health post, as a part of the Lalitpur Earthquake Preparedness Project.
Around 2,000 people benefit from the services of Bungmati Health post. Everyday around 100 people visit the health post and receive medical treatment.
Similarly, World Vision is also funding the seismic retrofitting of three schools in the peripheral villages of Lalitpur district. 410 students and 25 teachers will directly benefit whereas 6,645 people will be to take shelter in the event of an earthquake. 
Various other activities have also been carried out under the project like training on community based disaster preparedness plan, first aid training to school teachers and disaster management committee members, distribution of first aid kit, fire extinguishers and earthquake alarm for schools and health post. 
Disaster management plans of 22 government schools have been prepared. Initial assessment of the structural condition of nine schools and five health posts resulted in adopting retrofitting measures for highly vulnerable buildings.
Humanitarian Emergency Affairs is a key area of World Vision's work in Nepal through which it contributes to increase children and communities' resilience to the risk of disasters.  
Through activities in disaster risk reduction World Vision seeks to ensure children and communities can survive disasters. Out of 198 countries in the world, Nepal is ranked as the 11th most at-risk country in terms of earthquake.