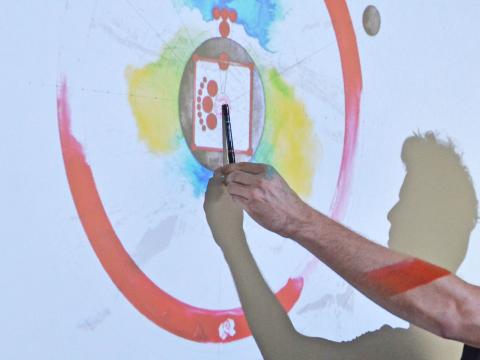 Nepal Innovation Lab
The Nepal Innovation Lab (NLab) is an innovation centre located in Lalitpur, in the heart of Kathmandu Valley. The space provides a collaborative working environment to test, prototype and scale breakthrough solutions for humanitarian and development challenges. The NLab was established in 2015 as part of World Vision International Nepal's Earthquake Response with the aim to contribute to the national recovery and to inspire the humanitarian as well as the development sectors to deliver more effective, high-quality and community-driven responses. Innovations that are born in the NLab are usually co-designed with people affected by crises.
Drawing on the emerging application of the NLab models to achieve social impact, the NLab represents one of the first of its kind to be established in the field, closely linked to the work of a major humanitarian organisation during a response effort. In convening the right collaborators, providing the tools and resources for research and development in the field, and cultivating the conditions for solutions to be adopted at scale — this model is designed to create a pipeline of humanitarian innovation.
The NLab envisions to bring together the right mix of visionary companies, entrepreneurs, thinkers, and problem-solvers — to test big ideas in a very real context. Through high levels of communication, collaboration and trust, the NLab supports interdisciplinary, intercultural, and both national and international teams to respond to uncertainty with breakthrough solutions.
For more information, please visit www.nepalinnovationlab.org