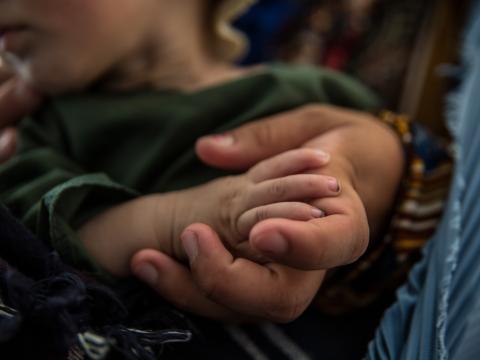 World leaders must prioritise gender equality, funding and asylum at G20's Afghan emergency meeting
Friday, October 8, 2021
By Asuntha Charles, World Vision Afghanistan National Director 
As the G20 meets in an emergency session to discuss how to unify in order to support the people of Afghanistan, World Vision calls on global leaders to take real and tangible action in order to ensure the protection of Afghan women's rights, provide funding rather than just pledges, and commit to ensuring that those at risk who seek asylum are granted quick and safe access across borders.
Women and girls must have equality in all areas of life and be free from discrimination. Access to second and higher-level education is central to these rights. World Vision welcomes assurances already made by the Taliban leadership of girls' access to education. We now call on the G20 to engage with the Taliban to set a timetable for the opening of all areas of education to women and girls. We urge the G20 to offer the support needed to help millions of girls return to secondary and higher education, after so many weeks away. The children of Afghanistan have boundless potential. It is World Vision's greatest wish is to stay and support all children in Afghanistan, both girls and boys. We call on world leaders to support us in making this happen.
Funding commitments have been made. Over US$1.2 billion has been pledged to Afghanistan by generous governments but not all of these pledges have materialised as funds. G20 nations must not allow counter terrorism regulations and sanctions to slow funding to agencies on the ground that are carrying out life-saving work.  We call on governments to issue waivers, licenses and flexible funding, and to help restore Afghanistan's banking system in order to allow the flow of funds.   With half the country - 18 million people - in need of humanitarian assistance, the health system in a state of collapse, and 2.7m people facing starvation, sustained and flexible funding must urgently flow or lives will be lost.
Finally, G20 countries must open their borders to allow Afghans seeking asylum access to safe passage. Afghans who are persecuted or at risk of harm, must be supported, their visa processes accelerated, and they must be assisted with funding and livelihood support in order to restart their lives.  
World Vision welcomes this emergency meeting and the prioritisation of Afghanistan, by the G20. We call on world leaders to use the power they possess to ensure that all children in Afghanistan enjoy life in all of its fullness, with equal access to every opportunity they all rightly deserve.