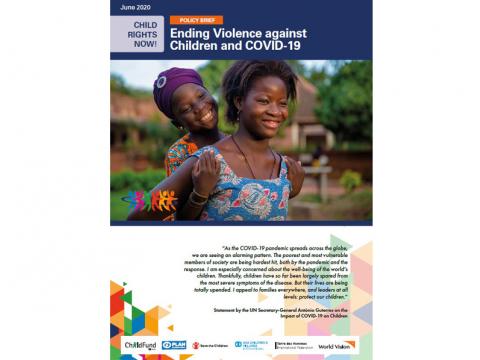 COVID-19 threatens to cause surge in cases of violence against children worldwide
Wednesday, July 1, 2020
The Joining Forces coalition warn that millions of children could be at risk as COVID-19 threatens to have life-long impacts on children's health and well-being

World Vision, a member of Joining Forces, release a policy brief urging governments and change leaders to prioritise preventing and responding to violence against children

Research shows that cases and forms of violence are being aggravated by the COVID-19 pandemic
A report published by the Joining Forces coalition today highlights the urgent need to focus on ending violence against children in the global response to the COVID-19 pandemic. In the brief - the impact of COVID-19 outbreak on violence against children - the six aid agencies, including World Vision, draw from their extensive frontline experience and call on governments, donors and fellow aid agencies to ensure children are protected from the impacts of COVID-19.
The coalition highlights that before the coronavirus pandemic, more than half of all children worldwide lived in daily exposure to different forms of violence. Research finds that violence against children already costs the world's economies US$7 trillion annually and the coalition warns that failing to prevent further escalation of violence exacerbated by the COVID-19 outbreak will likely increase the costs for communities and countries in the years to come. 
A recent World Vision report has estimated that as a result of three months of global lockdowns, up to 85 million more children may be at risk of physical, sexual and emotional violence than before the outbreak.
Statement from the brief:
"More than one billion children are out of the education system and confined at home with carers who are experiencing one or various forms of duress (e.g. unemployment, depression, work from-home pressure, anxiety). For many children, home was not a safe environment to begin with; for others, the increase in stress on caregivers and close confinement in overcrowded lodgings also means new risks of violence. Children already experiencing violence at home, as well as those more vulnerable to violence such as children with disabilities and children living in conflict and fragile contexts, are at increased risk.
UNFPA has already predicted that 13 million more girls will be pushed into child marriage over the next ten years. Our experiences from previous catastrophes such as the Ebola outbreak show that most of these marriages will happen in the first two years of crisis, putting 4 million girls at immediate risk.
Members of Joining Forces have been at the forefront of efforts to prevent and respond to multiple risks of violence from COVID-19. From the very beginning of the outbreak, our responses have placed an emphasis was on ensuring that cases of violence against children can be recognised and that children have access to reporting mechanisms and response.
Currently, the child protection component of the Global Humanitarian Response Plan remains greatly underfunded, with the funding gap close to 90%. With the proper prioritisation from governments and donors, this can be reversed. Responding to violence against children must be seen as priority."
[END]
AN AGENDA FOR ACTION
World Vision is part of Joining Forces, a coalition of six leading child rights organisations calling for child protection to be prioritised in the response to COVID-19.  Joining Forces is a global alliance of six leading child rights organisations working in coalition to prevent and respond to violence against children across 70 countries.
Currently, all Joining Forces agencies are responding in different ways to the interruption caused by COVID-19, to ensure that children are connected to the support they need for their protection. The organisations urge for a child protection approach to the global COVID-19 response that places children at the centre – upholding child rights principles, reaching the most vulnerable and with adequate funding – is essential for all children to be able to access and receive the support and services they need in these difficult times. Find out more here.