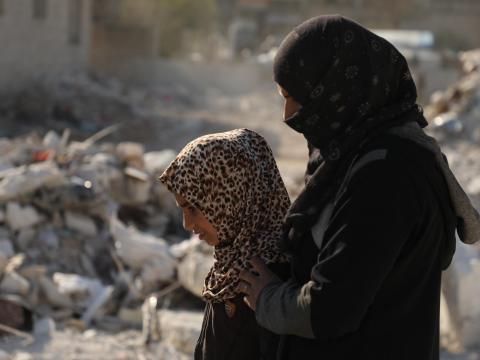 Brussels 7 Conference: Donor pledges fall short of urgent need to respond to worsening humanitarian situation in Syria and host countries
Friday, June 16, 2023
16 June 2023 – Yesterday, donors came together at the 7th edition of the Brussels Conference in support of Syria and the region, pledging 5.6 billion euros in grants for the Syria crisis response, with only a tenth of the necessary funding being secured for 2023. 

The European Union, United States and Germany represented the top three donors at the pledging event, similarly to previous years. Although significant, this amount falls short of the 11.1 billion USD needed to cover the needs of more than 15 million people in Syria, and 6.8 million Syrian refugees in the region's host countries.

Johan Mooij, World Vision Syria Response Director who was present at the conference said:
"We cannot forget the promise we had made to Syrian children and families 12 years ago at the onset of this crisis. More needs to be done for the Syrian children at risk of malnutrition and stunting, the Syrian mothers unable to breastfeed their newborns, and the families who continue to suffer from years of violence, displacement as well as the recent earthquakes."

"We must ensure families can still obtain the livelihoods assistance they need to come out from poverty and debt. In addition, children must continue to access the education, protection and mental health services that are key to their development. Long-term commitments from donors are necessary to ensure Syrian families can recover from this crisis so that parents can ensure a more peaceful and stable future for their sons and daughters who have known nothing but war for the past 12 years."

Read more about growing humanitarian needs in Syria and host countries in our Brussels 7 policy brief available here.
ENDS.
For more information, please contact:  Hamzah Barhameyeh, World Vision Syria Response Communications & Advocacy Manager, Email: hamzah_barhameyeh@wvi.org 
World Vision is a global humanitarian organization dedicated to working with children, families and their communities to reach their full potential by tackling the root causes of poverty and injustice. World Vision serves all people, regardless of religion, race, ethnicity or gender.  For more information, please visit https://www.wvi.org/syria-response or follow us on Twitter @WorldVisionSR.
World Vision Syria Response has been operating inside Syria, Jordan and Türkiye since 2011, where we provide life-saving protection, education, WASH, livelihoods and health services to refugees and local communities.