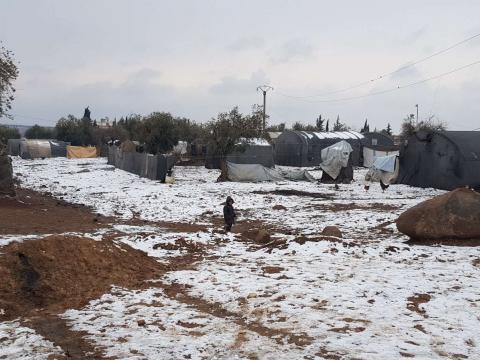 Displaced Children Die in Freezing Winter Conditions in Idlib
Thursday, February 13, 2020
At least four children living in informal displacement camps in North-West Syria are reported to have died, as temperatures drop below zero. Among the dead is an eight-month-old boy whose mother noticed that his chest was not moving and his face colour changed in the middle of the night. The doctor later confirmed that the boy died in his sleep due to cold. A year-and-a-half old girl whose father carried her for two hours in the camp but was announced dead at arrival at our partner's hospital in Aleppo governorate.
Some 700,000 people have been forced to flee their homes since the start of December due to escalating conflict in Idlib and Aleppo, 350,000 of them children. Aid agencies are calling for an urgent ceasefire to allow aid to reach the vulnerable and prevent further needless deaths.
Families are staying on the move seeking shelter all day with no luck. They are sleeping under tarpaulin, in cars and in half-built buildings with no windows. The majority cannot afford heaters or fuel, and many do not have enough blankets or winter clothes.
Aid workers are working around the clock to provide emergency support, but with tens of thousands of people arriving every day, supplies are low and the humanitarian response is overwhelmed.
Ahlam*, a Protection Advisor for World Vision in Idlib, says: "It is about -7 degrees Celsius here, families and children are freezing without a roof over their heads. Everyone here is begging for tents or housing to seek shelter from the cold. There are 20 children living in a basement warehouse with no windows or ventilation. They have been displaced for three days and they are sick with no blankets or mattresses to sleep on."
Khaled*, a displaced father of six, is staying with seven other families in the basement warehouse. There is mould all over the walls and no sanitation. The rent is $100 USD a month, but they don't have the funds to cover it. He said: "My family and I fled with other families when the fighting intensified. We stayed out in the fields for two days after we left our homes. My children do not even have blankets or mattresses to sleep on and some of them are sick." His wife added: "There are no toilets here, men leave the warehouse when women need to use the primitive temporary toilet, the situation is utterly miserable".
Children are being killed in the hostilities – with the UN reporting that 30% of all casualties in the hostilities since the start of the escalation in Idlib and surrounding areas last April are children, and they are dying from the cold and dangerous living conditions in displacement camps. In the last week, we've received reports of children dying in tent fires, suffocating from makeshift heaters, and 3 children dying in a landslide as they scavenged for trash to eat or burn for fuel.
Duncan Amoyo, Health Adviser for World Vision's Syria Response, said: "Babies and young children are particularly vulnerable living in open fields in freezing and wet winter weather, without proper sanitation. Many have weakened immune systems due to under-malnutrition, and we're seeing increasing rates of pneumonia since people are closely sticking together in the cold. We're also witnessing an increase in influenza-like illnesses and diarrhoea among populations living in camps, which may be attributed to poor sanitation in the camps."
World Vision and our Syrian partners are distributing around 400 emergency kits which include blankets and mattresses, kitchen items and hygiene products. We have already delivered 3,294 winter assistance packages, and are providing water storage, water trucking and latrine constructions. Nevertheless, the situation in Idlib is desperate and unsustainable. At least 6,500 children are being forced to flee their homes every day – others are dying under bombardment or in freezing tents.
The international community cannot turn a blind eye to this worsening crisis, and must take immediate action to secure a ceasefire and ensure aid access to the affected population.
ENDS
* Names have been changed to protect identities.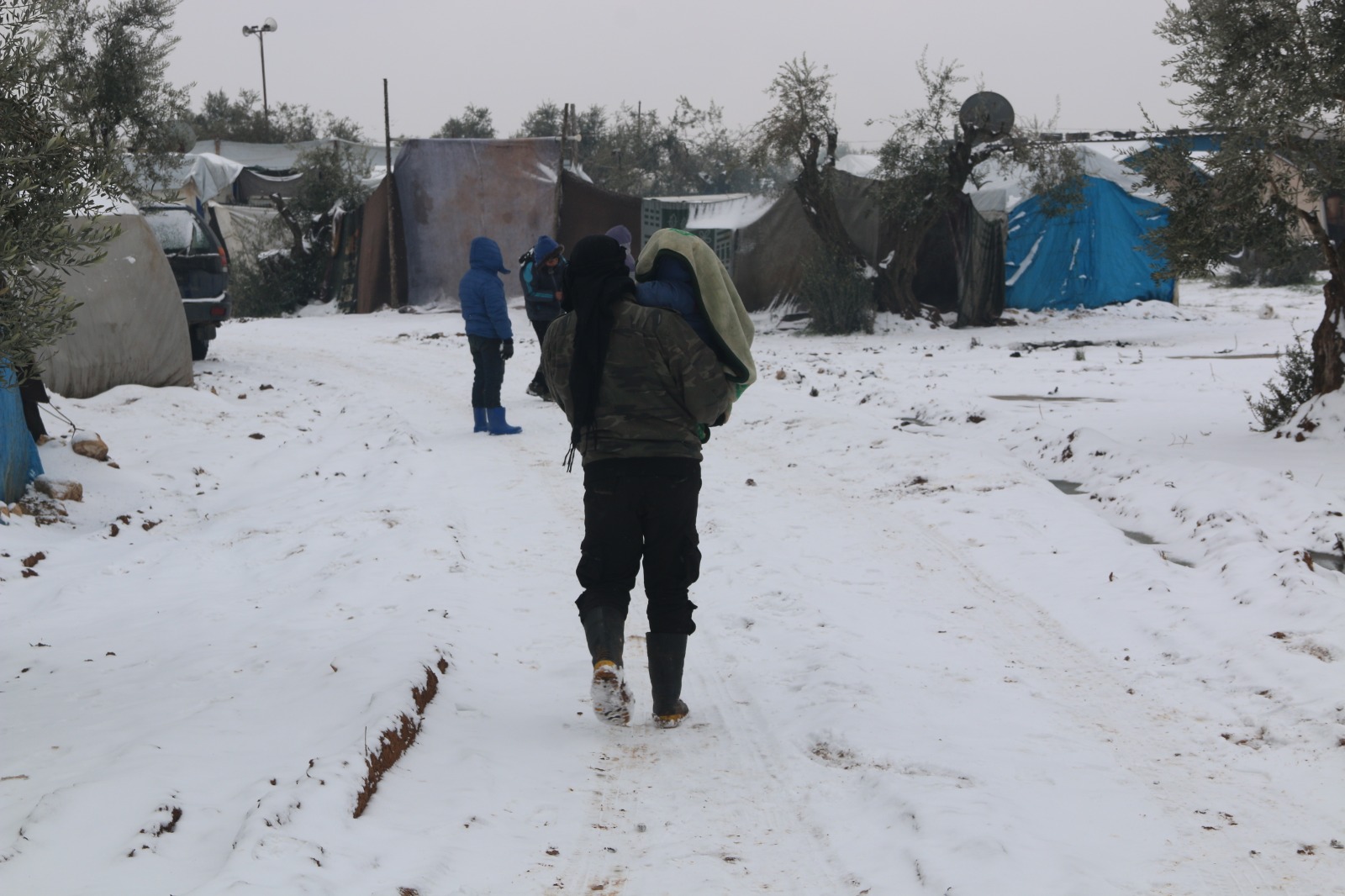 Notes to Editors:
World Vision has spokespeople available for interviews.

Photos of the snow in northwest Syria are available for free use and distribution here.
For media enquiries please contact:
Caroline Anning - Syria Response Advocacy & Communications Director, World Vision International
M: +962 778 482 439
Elias Abu Ata - Syria Response Communications Manager, World Vision International
M: +962 775 446 556