Warm clothes and blankets gifted to poor children
Saturday, February 11, 2017
Ba Thuoc, Thanh Hoa, Feb 11 2017 - In this morning, Korean corporation Youngone, via World Vision International in Vietnam, gave thousands of warm clothes and blankets to children and poor in two districts of Ba Thuoc and Quan Son of Thanh Hoa province.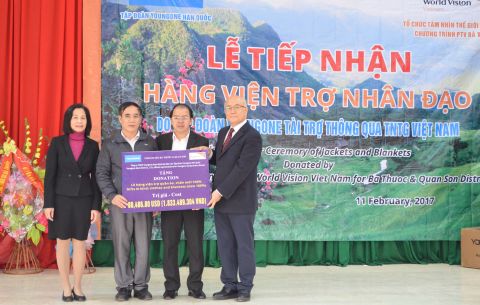 The handing over ceremony was held in Dien Quang Commune in Ba Thuoc district. The gift was a generous amount of autumn and winter clothes, children jackets and blankets, which valued more than USD 80 thousand (more than VND 1,8 billion).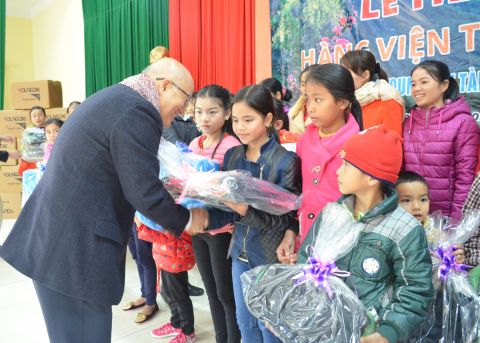 Mr. Jinkook Kim, General Director of Youngone Nam Dinh Co., Ltd, representative of Youngone corporation, showed up in person to hand over the 100% new products of his company to the poor children at the ceremony.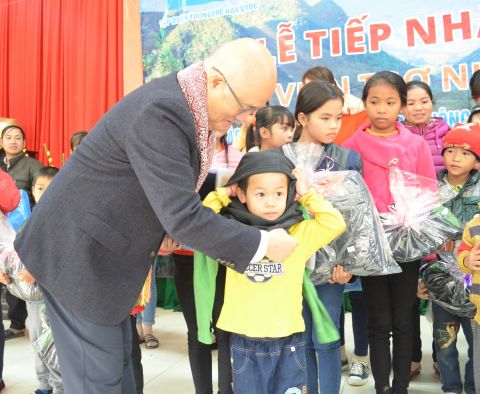 The new warm clothes were immediately put on the children of Dien Quang 1 primary school and Bùi Xuân Chúc secondary school to help them cope with the cold weather.
Mr. Lo Van Thang, Vice Chairman of the People Committee of Ba Thuoc district, informed that about 10 thousand people in 10 communes of two districts of Ba Thuoc and Quan Son benefited from this assistance, including more than 4000 children and more than 4000 people in poverty or with disabilities.
In his speech at the ceremony, Mr. Jinkook Kim expressed the expectation that the products of his company would help relieve the difficulties in the lives of poor households in the districts.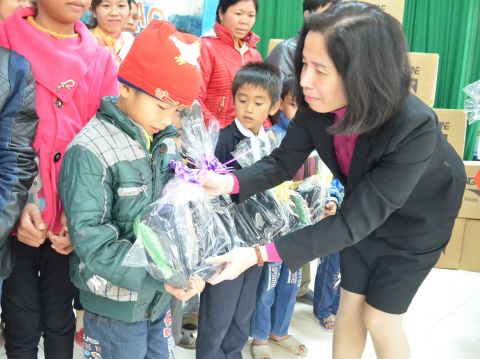 Ms. Than Thi Ha, Operations Director of World Vision Vietnam, appreciated the 10 year commitment of Youngone corporation in this charity work, in co-operation with the area development programs of World Vision Vietnam.
Along with Ba Thuoc and Quan Son, 5 other districts including Dien Bien Dong, Tua Chua, Muong Cha, Tuan Giao (Dien Bien province) and Na Hang (Tuyen Quang province) are also among the receivers. The total value of 32 thousand of clothes and blankets gifted is more than USD 300 thousand (more than VND 6,8 billion).
"Apart from helping with urgent needs of warm clothes and blankets of the children in struggling areas in the cold winter, these loving gift has also been making positive improvement in the lives of the children in the benefiting areas", emphasized Ms. Than Thi Ha.
Youngone corporation has the headquarter in Seoul, Korea, specializes in garment and textile with major exporting markets in Europe and USA. The corporation has invested in Vietnam since 2003, now has factories in provinces of Nam Dinh, Hung Yen and Bac Giang, offering more than 12 thousand jobs for local workers.