publication • Monday, July 25th 2016
July 2016 South Sudan Emergency Policy Brief
Download Publication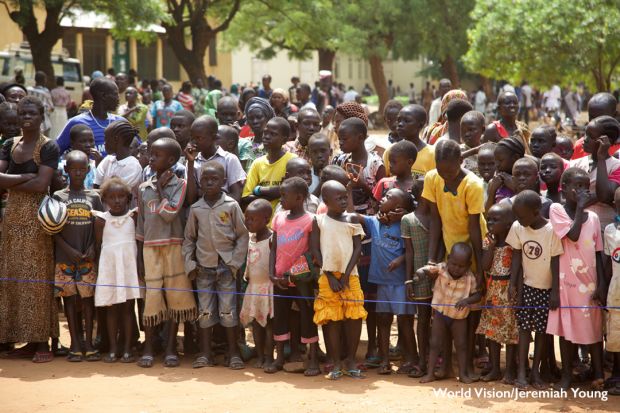 Children waiting to receive emergency nutrition treatment after recent violence in Juba

Suffering will worsen across South Sudan without adequate humanitarian suppport

Executive Summary- click link above to download full publication
July 24, 2016 - The recent escalation of violence in Juba was a significant setback to the provision of basic needs for children and their families across South Sudan. Even though many of the displaced in Juba have returned from places of refuge, the recent violence has resulted in the vulnerabilities of all South Sudanese to increase more rapidly than what was originally predicted.
South Sudan was already facing wide-spread food insecurity and malnutrition with a risk of famine growing in several parts of the country. According to the Integrated Food Security Phase Classification (IPC) for the Republic of South Sudan released on 29 June 2016, the overall food security and nutrition situation has continued to worsen across the country resulting in over 4.8 million individuals experiencing acute levels of hunger and malnutrition. This is an increase of one million individuals overall and a 40 percent increase in the number of children treated for severe acute malnutrition since the same period last year.
Moreover, the report also noted that an increasing number of those considered food insecure were being found in urban areas across the country. Of those identified as being food insecure, more than 300,000 lived in urban areas like Juba, Wau, and Aweil, with the trend likely to continue if the security and economic environment were to continue to worsen.
Children who suffer from moderate acute malnutrition are 2.5 times more likely to die than a well-nourished child if they don't receive treatment. If the malnutrition is severe, a child is 9 times more likely to die. Ensuring good nutrition, particularly in the first 1,000 days of a child's life saves lives and prevents the lifelong impacts of mental and physical stunting caused by malnutrition. Rapid needs assessments carried out by World Vision in response to the recent violence in Juba indicated that hunger and malnutrition among children under 5 has indeed deteriorated, with GAM rates well above emergency thresholds.
Despite the widespread violence that broke out in Juba on the eve of South Sudan's 5th anniversary of independence and the uncertainty that it has brought, World Vision and other humanitarian actors such as WFP and UNICEF have continued to provide life-saving assistance to vulnerable children and families in Juba and across the country. However, additional support is required from all stakeholders to strengthen our efforts and contribute to a more peaceful, healthy, and productive South Sudan.
To download the full document please click the link above.