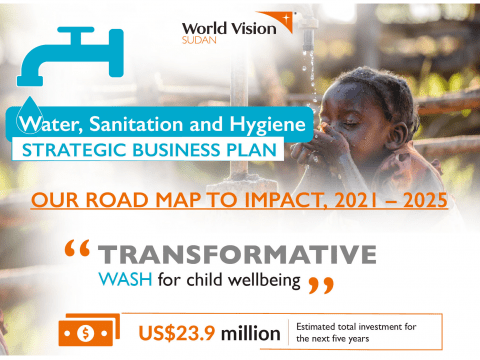 2021-2025 Business Plan for Water, Sanitation & Hygiene in Sudan
Monday, July 19, 2021
World Vision, globally, has a new five-year water, sanitation and hygiene (WASH) business plan, for the period 2021-2025. The business plan incorporates a lot of World Vision's learnings and reflections over the years. As part of our contribution to the global WASH business plan as well as our country strategy, World Vision's WASH programme in Sudan seeks to work closely with strategic partners to mobilise and invest at least US$ 23.9 million that will go towards inclusive WASH services, for nearly 400,000 vulnerable people.
World Vision will focus on four main programming areas, as means to bring WASH services closer to the most vulnerable children and communities, and hard-to-reach areas. 
• Water supply
• Sanitation services
• Governance and finance (include issues of operation and maintenance)
• Water security and resilience (that addresses issues of climate change)
Gender equality and social inclusion, as well as behaviour change, will be mainstreamed across the above four.