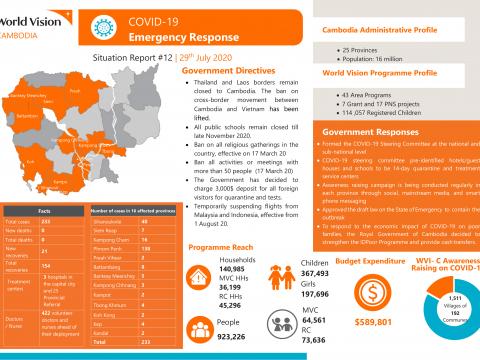 Covid-19 Situation Report 12 | 29th July 2020 | Cambodia
Monday, August 24, 2020
Current response by World Vision International - Cambodia
Guided all project and programme teams on what to continue, adjust and suspend in each Technical Programme, F&D, and Sponsorship operations. Working with the Government, UN and non-government partners to monitor the situation and modify response coordination.

Revised the response activities of World Vision Cambodia response and recovery plan to align within the updated Global COVER result framework. The objectives, outputs, indicators and activities align with the Global COVER Framework.

World Vision COVID-19 Rapid Assessment report produced and circulated to the Civil Society Organizations (CSO), Community, Government and Multilateral agencies and donors.

Guideline of Education and Child Protection Technical Programme Integration for COVID-19 Response was developed and shared with field staff.

World Vision teams continue to produce social media messaging on positive parenting and home-based learning.

World Vision Cambodia applies Government COVID-19 prevention and protection standards.

All staff were provided with masks, sanitizers and liquid soap. Flexible work applied and staff are encouraged to practice protection measures and social distancing.