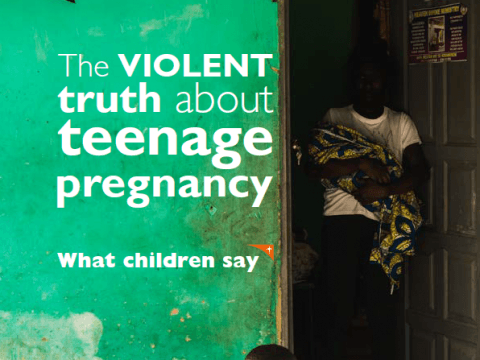 The violent truth about teenage pregnancy
Friday, September 20, 2019
Over the past three years, groups of school children in seven countries in Africa spoke to more than 500 boys and girls in their communities about one of the most underreported consequences of sexual violence for girls – pregnancy.
Using World Vision's child-led research methodology as a starting point, many children chose the topic of teen pregnancy when asked to identify issues of violence against children in their communities. A taboo subject in most communities around the globe, children joined together to talk openly about adolescent pregnancy and what they see as one of the greatest threats to their peers' futures.
Sexual abuse of girls and boys across the world is under-reported and under researched. Hence, the reports provide a valuable insight into sexual violence against girls and boys and offer a tool to help prevent the problem and improve protection. In this case, children's concern about teenage pregnancy served as a safe entry point to discuss its causes, including alarming stories of sexual abuse. While the research carried out by the children and summarised in this report is by no means scientific, it is groundbreaking as an education tool for the children themselves and offers a disturbing insight into the abuse endured by so many girls. 
Although they are not necessarily indicative of broader trends across the countries where the children live, the child-led reports are an insight into the views and concerns of some young people who care about child rights in their own communities.
The children discovered that when girls became pregnant, it was overwhelmingly as a result of sexual abuse by an adult, including school teachers. The children perceived the prevalence of rape, early marriage and forced sex work in their communities to be shockingly high. The child researchers repeatedly suggested that poverty put girls at greater risk of sexual violence, as it forced them into transactional relationships, generally with older adult men.
The young researchers called on their governments and local authorities to uphold the law and bring the perpetrators of rape and sexual abuse to justice. They also asked for economic opportunities to prevent girls from being forced into marriage or sex for money.
This report was written based on the findings of the individual child-led reports and presents some of the findings of the conversations between peers. It also starkly shows the need for targeted support for girls to prevent the abuses and poverty that lead to teenage pregnancy, as well as for young mothers and pregnant girls so they can continue their education and bring up their children with confidence and a healthy start to life.
World Vision urges governments to listen to the calls of their young citizens and end impunity for perpetrators of abuse.