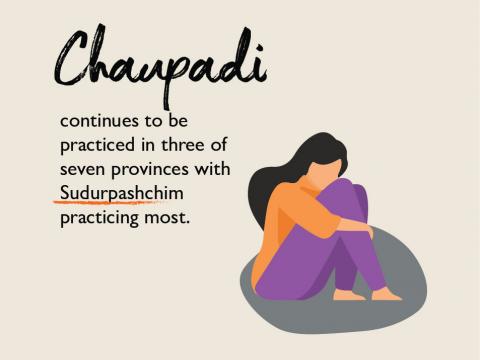 Status of Menstrual Health and Hygiene Management among Adolescent Girls of Nepal (full report)
Friday, March 26, 2021
Menstrual taboos are very common in many parts of the world, including Nepal. Nepalese women and girls have experienced negatively on health and dignity, sometimes, even resulting in deaths during practices of Chaupadi[1]. While such ill practices make news every once in a while, we found that comprehensive national data on status of menstrual health and hygiene management, particularly of adolescent girls (10-19 years) and the complex vulnerabilities they face, have not been studied. Nepal Health Research Council and World Vision International Nepal, with financial support from Accelerator Fund World Vision US, conducted a national survey among 3,495 adolescent girls in Oct-Dec 2019 to understand knowledge, attitude, practice and psychosocial status with regard to menstrual health. Lived experiences of girls with disability were also documented.
Overall, knowledge about menstruation was satisfactory with three quarter (71.7%) of adolescent girls knew about menarche before its onset and majority of girls perceived menstruation as a normal healthy process. What was concerning was that 50% of participants were unaware of the physiology of menstruation that sets the stage for pregnancy and this lack of knowledge may have direct implications on adolescent reproductive health.
Chaupadi continues to be practiced (8.7%), although it was declared illegal in 2015.  The major reasons behind the practice were family obligations (70.8%) followed by fearing divine retribution (13.7%). Other common restrictions during menstruation revolved around religious activities (79.1%), household chores (51.9%), social activities (46.1%) and personal activities (36.95 %). Mothers imposed these restrictions followed by grandparents and fathers. Given that there were no restrictions during menstruation, more than 90% adolescent girls preferred to continue personal activities (take a bath, sleep in their same room, eat dairy products) while the least preferred was to engage in religious activities.
Overall, menstrual hygiene management practices at home were found to be quite good but the practice at school needs improvement. Half (51.2%) of all girls used disposable sanitary materials, followed by reusable sanitary materials (37.7%). Majority (65%) were happy with the current use of sanitary material. 42.6% changed sanitary material three times or more per day. At home, 92.9% was able to change sanitary materials as often as necessary but in school only 55.2% were able to change sanitary materials and three major reasons for not being able to change were: unavailability of disposal mechanism (29.1%), embarrassed (25.9%), not enough material (23.9%). It is very concerning that one quarter (26.7%) girls missed school over the last 12 months with dysmenorrhea, heavy bleeding and fear of leakage being the major causes.
With regards to WASH (water sanitation and hygiene), half of the girls (46.6%) had access to toilets for cleaning purpose, 37.7% went to well/taps and 15.6% went to river/ponds. 93.7% had access to soap for washing, 92% washed and dried sanitary materials in sunlight but away from others view. Half (54.1%) of the girls took a bath daily. 60.5% girls could easily access washing place (less than15 minutes' walk) while 1.8 % had to walk more than one hour. Disposal mechanism of used sanitary materials was mostly burying and burning. Place for changing sanitary materials were toilets followed by bed room. Majority of girls stated that the place for changing are clean, private and safe.
Psychosocial attributes of secrecy and shame, annoyance, stress and self-efficacy were measured on adapted version of MR-SSS (menstrual related - school participation, stress and self-efficacy) scale. In all four attributes, 42-45% of all girls related to high secrecy and shame, high level of annoyance, high menstrual stress and low self-efficacy.
This study also documented experiences of girls with disability. Their needs varied with the nature of their impairment. Major challenges were not having access to disposable sanitary materials, difficulties in disposal mechanisms, reliance on immediate female family members for changing sanitary material, reliance on female family member to oblige Chaupadi and also absence of disable friendly WASH facilities outside home resulting in them staying home during menstruation.
Several aspects of the study findings are very encouraging: that three quarter of adolescent girls have knowledge about menstruation before menarche, more than 90% have access to some form of sanitary materials and soap for washing, half of the girls are able to change pads thrice or more per day and majority have a safe and private place to change. Nevertheless, the study also highlights equally important areas that require immediate attention. One half of all girls are unaware about the physiology of menstruation and pregnancy which demands a broader thinking from reproductive health perspective. One tenth of girls continue to practice Chaupadi and many continue to face restrictions during menstruation which is not in alignment with child rights and dignity of girls. One fourth of all girls miss school during menstruation, which has a direct impact on girl education. The psychosocial scales on secrecy and shame, annoyance, menstrual stress and self-efficacy is also not very encouraging. The menstrual need of girls with disability are largely unmet. This study findings clearly highlights that in order for girls to thrive, a multi-sectoral action is required in menstrual health and hygiene management. World Vision International Nepal has been working for the sustained well-being of children, particularly girls in vulnerable settings, and therefore this study paves the way for blended programmes that gives the best start to adolescent girls as they transition from childhood to adulthood.
[1]Chaupadi is the practice of isolation during menstruation, childbirth and postnatal period generally practiced in mid and far western districts of Nepal