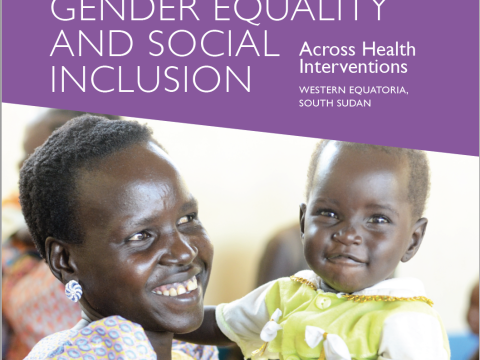 South Sudan: Prioritizing Gender Equality and Social Inclusion across Western Equatoria
Monday, February 20, 2023
Strengthening access to health care and integrating gender equality and social inclusion (GESI) concepts and approaches to health interventions proved to be effective in transforming communities.
In South Sudan's West Equatoria State (WES), the collective efforts of World Vision, Ministry of Health, and members of the Health Pooled Fund, through the Prioritizing GESI Across Health Interventions Project, helped improve the health status of women, children, and other vulnerable groups, including persons with disabilities and survivors of gender-based violence. The project aimed to ensure health interventions in WES provide access to quality health services for all, support health systems reform, and address social determinants of health.
This document presents a promising practice on integrating GESI into the public healthcare system in WES, to serve the poor and marginalized members of the community. This report highlight the project's  five domains of impact and how these are empowering vulnerable groups, especially of women, girls, and persons with disabilities, to access quality healthcare, thereby enabling them to contribute more to their communities and take on leadership roles. 
Access
Decision-making
Participation
Systems
Well-being
The Prioritizing GESI Across Health Interventions Project is a joint project of World Vision, Ministry of Health, and Health Pooled Fund, a consolidated fund from the British Government's Department for International Development, the Government of Canada, the Swedish International Development, and the United States Agency for International Development. The documentation of GESI Promising Practices is part of GESI Transform Project funded by World Vision U.S.