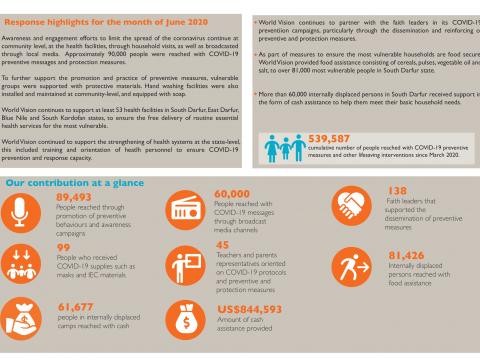 Sudan COVID-19 Health Emergency Situation Report #6
Thursday, July 2, 2020
COVID-19 infections have continued to rise, and as of 27 June, the Federal Ministry of Health has confirmed 9,257 cases and 572 associated fatalities. 
Closure of airports for both international and domestic flights has been extended until 12 July 2020. This directive excludes repatriation flights, scheduled cargo flights, humanitarian aid and technical support flights, airlines operating in the oil fields, as well as evacuation flights for foreign nationals.
Schools remain closed, affecting at least 8 million learners. 

Measures to reduce the further spread of coronavirus such as restrictions on movement and lockdown continue to affect the fast delivery of response supplies to operational sites, including limiting access to target populations. This is exacerbated by the constraints of a dire economic situation. 

World Vision is responding across four states, through promotion of COVID-19 prevention measures, and support to strengthen the health systems, and livelihoods support for the most vulnerable.