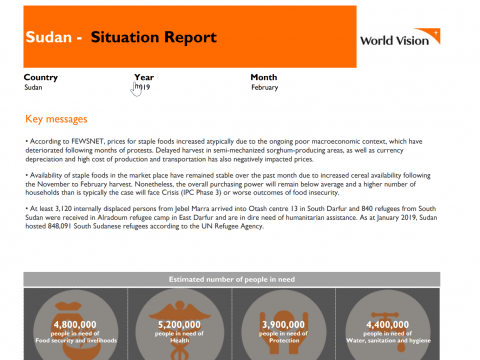 Sudan- February 2019 Situation Report
Saturday, March 23, 2019
According to FEWSNET, prices for staple foods increased atypically due to the ongoing poor macroeconomic context, which have deteriorated following months of protests. Delayed harvest in semi-mechanized sorghum-producing areas, as well as currency depreciation and high cost of production and transportation has also negatively impacted prices.
Availability of staple foods in the market place have remained stable over the past month due to increased cereal availability following the November to February harvest. Nonetheless, the overall purchasing power will remain below average and a higher number of households than is typically the case will face Crisis (IPC Phase 3) or worse outcomes of food insecurity.
At least 3,120 internally displaced persons from Jebel Marra arrived into Otash centre 13 in South Darfur and 840 refugees from South Sudan were received in Alradoum refugee camp in East Darfur and are in dire need of humanitarian assistance. As at January 2019, Sudan hosted 848,091 South Sudanese refugees according to the UN Refugee Agency.