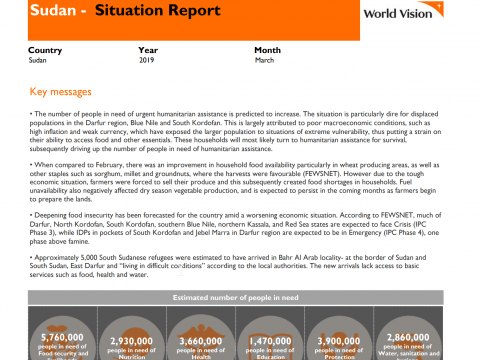 Sudan- March 2019 Situation Report
Thursday, May 23, 2019
The number of people in need of urgent humanitarian assistance is predicted to increase. The situation is particularly dire for displaced populations in the Darfur region, Blue Nile and South Kordofan. This is largely attributed to poor macroeconomic conditions, such as high inflation and weak currency, which have exposed the larger population to situations of extreme vulnerability, thus putting a strain on their ability to access food and other essentials. These households will most likely turn to humanitarian assistance for survival, subsequently driving up the number of people in need of humanitarian assistance.
When compared to February, there was an improvement in household food availability particularly in wheat producing areas, as well as other staples such as sorghum, millet and groundnuts, where the harvests were favourable (FEWSNET). However due to the tough economic situation, farmers were forced to sell their produce and this subsequently created food shortages in households. Fuel unavailability also negatively affected dry season vegetable production, and is expected to persist in the coming months as farmers begin to prepare the lands.
Deepening food insecurity has been forecasted for the country amid a worsening economic situation. According to FEWSNET, much of Darfur, North Kordofan, South Kordofan, southern Blue Nile, northern Kassala, and Red Sea states are expected to face Crisis (IPC Phase 3), while IDPs in pockets of South Kordofan and Jebel Marra in Darfur region are expected to be in Emergency (IPC Phase 4), one phase above famine.
Approximately 5,000 South Sudanese refugees were estimated to have arrived in Bahr Al Arab locality- at the border of Sudan and South Sudan, East Darfur and "living in difficult conditions" according to the local authorities. The new arrivals lack access to basic services such as food, health and water.