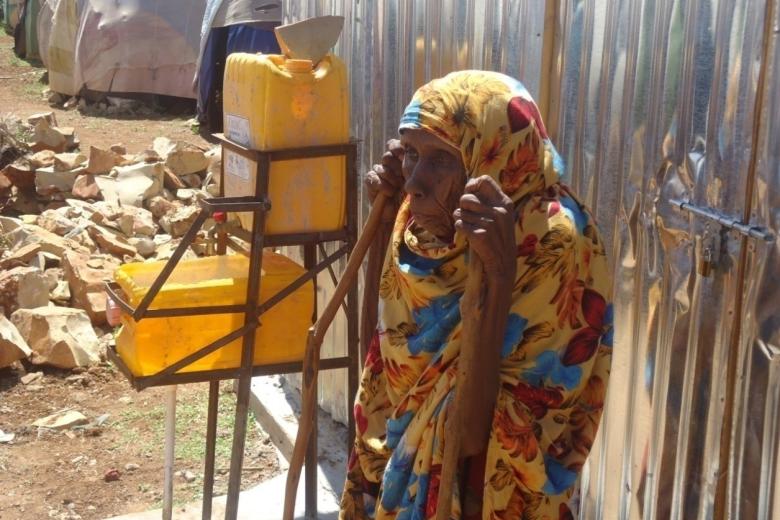 Baidoa: Dignity restored for the displaced even amidst war
Tuesday, February 10, 2015
By Mohamud Ibrahim Mohammed,
Liaison Coordinator, World Vision Somalia
War has no mercy even to the elderly.
Halimo Mohammed Cabdi who is said to be about 108 years has been on the run for a long time due to the long drawn conflict in Somalia.
In 2011 she found herself in Kulmiye displacement camp in Baidoa – mainly because the drought ravaged all her family assets in addition to the risk of the war between African Union troops and Al Shabab terrorist group.
She moved from Bakool region to Baidoa and found a devastating situation – she had no home and not even the privacy of going to the toilet.
Life was unbearable for her and her only son who is mentally challenged. The displacement was in a bush - no sanitation facility and basic services like clean water were rampant. Open defecation was the norm.
Her community's traditional copy mechanism especially the reliance on social support networks and credit systems were stretched beyond reasonable limits.
The displaced constructed traditional pit latrine made up of sticks, torn plastic sheet, nylon rope and old clothes. The top cover was two poles in the two sides of the pit, sticks and cartons. This kind of pit latrine was very dangerous especially for children and the disabled. Without supervision, children and disabled could easily fall down into the latrine pit. This also gave no privacy to people like Halima who had to be helped in to the toilet.
Halimo: Access to a proper latrine has restored my dignity
But now Halima's life has changed just a little better. At least she says shehas a dignified life even though she still lives in poor displacement camp. Now she has a proper toilet and can do help herself in privacy thanks to the intervention of World Vision and its local partner Golweyne Relief and Rehabilitation (GRRN) who used OFDA funding to make the lives Halima and 21000 displaced people in Baidoa a little bearable.
"Thanks to God, we got our privacy and our dignity back," said Halima.
The intervention included rehabilitation of shallow wells, building latrines in the camps, distribution of dignity kits, water storage cans and soap and education around proper hygiene.
These efforts have recorded a significant improvement in sanitation and decrease in diarrhea and dysentery.
An interesting outcome of the project was the effect it had on the female population taking the lead chore of the household and promotes hygiene promotion activities. This had a number of repercussions in that it gave them the opportunity to engage other communal activities.  
Halimo proudly showed us their new latrine. She says that the assistance that her community is receiving is improving their living conditions, making life in the camps a little bearable.
Halimo walks back to her shelter at the IDP camp
Halimo's neighbour and member of the IDP camp said in regards to access to latrine. "Before we received any help my children used to the nearby bushes anytime of the day. Since I needed privacy, I helped myself only at dawn or at dusk. It was quite frustrating," one of Halimo's neighbors told us. "We thank those who build these latrines for us. Our privacy is preserved, our dignity is restored and our security is improved because we no longer have to go to the bushes."