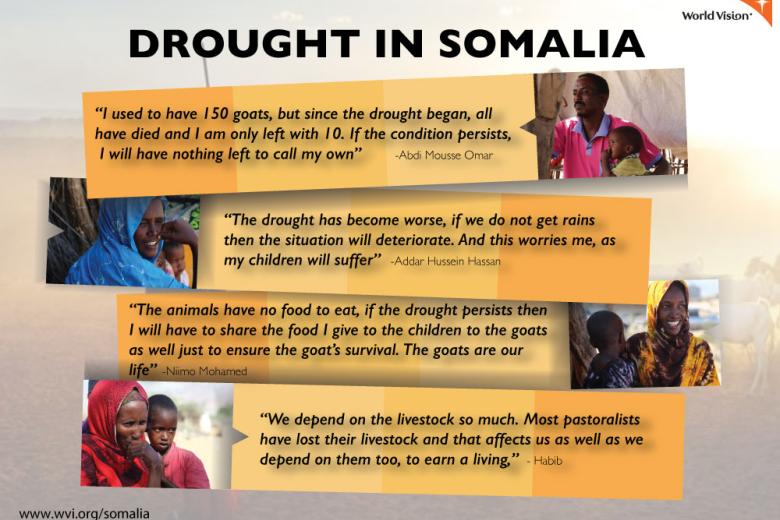 Drought in Somalia
Tuesday, March 29, 2016
Food insecurity and malnutrition has been widespread across Somalia, but drought in Puntland and Somaliland is of particular concern. According to the assessment by FSNAU and FEWS NET, erratic rains during the 2015 Gu (April-June) and the Karan (August-September) seasons in Puntland and Somaliland has resulted in a near total crop failure production that was below the estimated average. The 2015 Deyr rains (October-December) were also below average putting pressure on pasture and livestock.
World Vision Somalia's areas of operation that are affected include Dangorayo and Eyl in Puntland and Awdal in Somaliland. The drought conditions in both Puntland and Somaliland threaten recent gains made towards building household food security.
World Vision in Somalia has one of the largest humanitarian foot prints in Somalia including some of the hard to reach locations where the drought has hit and has been responding to the population's needs with interventions such as Community Based Management of Acute Malnutrition (CMAM), Targeted Supplementary Feeding Program (TSFP) activities as well as protecting livelihoods through livestock restocking and unconditional cash exchange.  The interventions have been going on since the government declared a drought in July 2015. However, much more support is needed to reach more people who were not targeted for these interventions.
More help is urgently needed to support the communities to survive this drought that is ravaging the area. World Vision Somalia targets to reach an approximately 64,000 people during this emergency response.