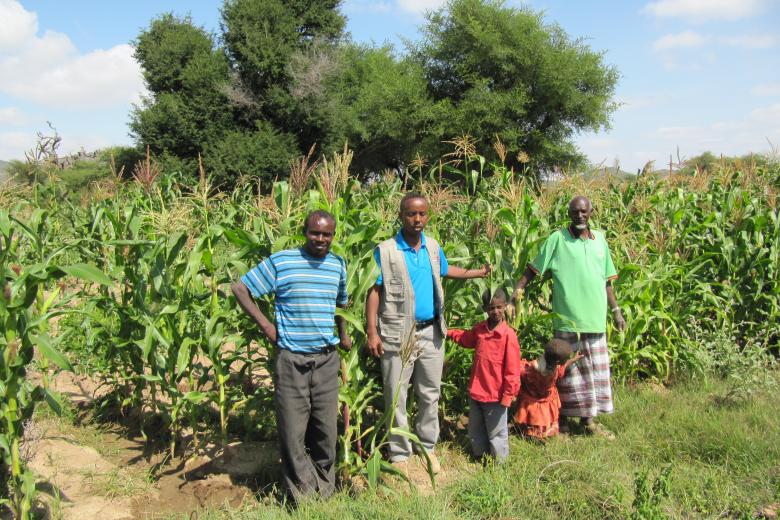 From Emergency to Recovery to Resilience
Tuesday, March 4, 2014
A mention of Somalia is usually characterized by conflict and food shortages. But that image is slowly changing. A group of farmers in Baki district of Somaliland is steering agriculture production in a region traditionally associated with pastoralism. The farmers who have partnered with World Vision through the Area Rehabilitation Programme are enhancing agriculture productivity in the area, after prolonged periods of drought and poor productivity.
"We are happy because we always have fresh food" says farmer Ahmed Aadam Shirdoon with a smile on his face. Shirdon is also the Chairman of the farmers 40- members group in Hamarta Durdur Ad village in Somaliland.
"Now, we have no reason to keep looking in the sky for heavy dark clouds in anticipation of rain." Shirdon adds.
 Each garden is irrigated through channels dug with the support of World Vision livelihood and resilience interventions, while a nearby river that runs throughout the year supplies the channels.
A farmer using a tractor to plough
The Harmata Durdur ad farming group was formed in 2013 to encourage farmers to engage in meaningful farming as well as collective marketing to boost earnings. World Vision then equipped the farmers with tools and seeds and trained them on good farming techniques. Through water, sanitation and hygiene (WASH) interventions, the community constructed and rehabilitated water systems and structures.
Water pump distributed to boost irrigation system in Hamarta community, in the presence of Deputy Baki Mayor, Regional coordinator of Ministry of Agriculture and Baki district coordinator of Ministry of Agriculture
The group has been an effective channel to promote resilience farming through irrigation and simple mechanization. Additionally all year round water supply has facilitated large scale farming of different food and cash crops which include; spinach, beans, onions, tomatoes, maize, pepper, paw paws, and oranges depending on the season.
"Immediately after harvesting, we plant other crops because we are not worried about drought," Shirdoon says. Farmers in the other areas rely only on rain and this has greatly affected their production capacity.
At the end of every harvest, the group farmers collect their produce, store them and the group leaders assist them to look for markets and negotiate for good prices.
In other areas farmers lost plantations of maize due to drought but in Harmata Durdurad, farmers have been able to harvest something because of the irrigation
The good supply of water and better crops yield has also opened up new markets for the farmers, who now sell their produce to businessmen in Boroma, Hargeisa, Berbera and other towns in Somaliland. They also export to countries like Djibouti, and Ethiopia. Watermelon is a one of the popular fruits exported. The farmers have been able to make special arrangements with various local agricultural companies who provide fertilizer and pesticides to the farmers who pay back later when they harvest. Furthermore, traders buy directly from from the group at a price set by farmers, allowing them to reap maximum profits.
Farming has given the community an opportunity to bond and work together towards rebuilding their lives. The farms have become a place where women, men, youth and children are all engaged in different activities. The women and children assist with collecting sorghum or maize stem remains, which they take home to use as fodder for their livestock, while the men till the land, and harvest the produce.
Despite the great progress of this project, the farmers are still faced with great challenges. The heavy rains coupled with floods which recently swept through Harmata, left the vital water channels eroded. The farmers also lack a cold room/cold chain to store perishable produce like tomatoes before they can transport to the markets. They also lack vital structures like grain stores while a number of irrigations pumps are in need repairs.
According to Shirdoon, climatic change has begun to have great impact on the Harmata Durdurad area. During the dry season, the supply of water fluctuates and this has begun to interfere with the quantity of farm produce. "There is no weather station here and we don't know what is likely to happen," noted one farmer.
"Our intention is to enable farmers and local community people become resilient and self-reliant. However, the farmer groups still require additional support to be able to acquire fertilizer, stronger pumps, a cold room/cold chain, better storage facilities, and latrines" says Charles Obayi, WV Project Manager for the Livelihood Initiative. The farmers are appealing for support in the form of: market linkage, long irrigation pipes and solar driven irrigation pumps to be able to expand the irrigation farming in Harmata river basin area.