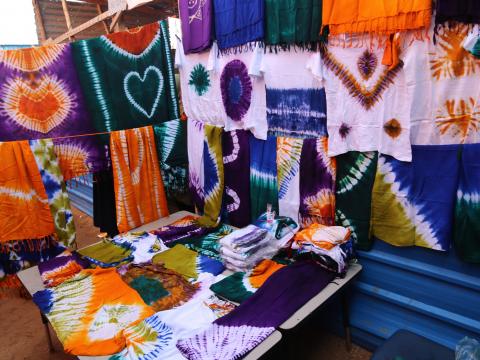 Improving the lives of the vulnerable youth in Somalia through vocational skills training
Saturday, November 18, 2017
World Vision in collaboration with World Food Programme rolled out a nine-month vocational training project in Dollow, South Central Somalia. The project was aimed at addressing skills gaps among the unemployed youth, enable them find jobs, enhance their skills and enable them eventually to generate income through self employment. The project targeted 300 vulnerable youth of age 16-45 years.  80 per cent were from the internally displaced communities while 20 per cent from the host community.
The youth are the most threatened because they have missed the opportunity to attend formal education. The instability and insecurity in the country has particularly affected the male who join militia forces and other endangering activities for survival while females may get involved in harmful coping strategies such as survival sex and early marriages.  
Participants were trained on literacy and numeracy skills for two months. They were also trained for seven months on various vocational skills which included: poultry farming, bee keeping, tie & dye, beauty & salon construction and tree planting. The project also supported them with work readiness skills, problem solving skills, planning, and teamwork and in addition to this, they were supported with exit package materials for starting their small businesses.
The project ran from February to October and students graduated November 2, 2017. Some of the students share their journey of knowledge.
Tie and Dye
Hamdi Siad: Quiet and self-confident
At 19, she had never been to school except for the madrasa classes when she was young. This was her first formal school.
"I have always been at home helping with domestic work. I never got a chance to go to school because of lack of school fees. When I was young I attended the madrasa classes."
This was an opportunity not to be missed
"I came to know about the project through the community leaders. They were looking for people who had not gone to school and had no form of livelihood. I was selected and here I am. I am here to gain skills and then cater for my daily needs."
"Before I started, I didn't have any knowledge on tie and dye. But now I have learnt to make everything for the tie and dye. "
As she benefits from the training, her family also benefits.
"This will not only benefit me. My family will also benefit because with the skills I have gained, I will make tie and dye and then sell. I will then be able to support my family with food and other household things."
Her words of advise to other girls
"This has been such a good course. In case they get such an advantage, they should take advantage of it and benefit from it.
Beauty and Salon
Istar Dahir Abdullahi, 19: The dreamer
This was a child hood dream come true
"When I was young, I liked the beauty decorations. When I saw ladies doing them, I would also go near to them to decorate me but they would not let me because they said it was only for adults. I therefore vowed to learn how to decorate and I started looking for opportunities that could help me realise my goals."
And when the opportunity came she launched deeper into it
"The community leaders were looking for people to join the training and I was selected. I was very happy. "
Her passion propelled her to work harder to attain her dreams
"When I joined, it was very difficult at first. But I wanted to succeed and so I worked very hard. Now I can do the decorations on my own. I have learnt how to draw different designs, how to mix the chemicals, how to apply henna as well as how to dress the hair."
She was now in pathway of possibilities and opportunities and nothing was stopping her from being exemplary
"With my skills, I plan to have a good business of beauty and salon so that I can do beauty for people during wedding and any other festivals. I hope to have a shop in the market that will be well known in town. I also hope to get assistants and share my vision with them and then train them what I learnt as well."
She hopes others will be enlightened as well when such opportunities come up.
"This opportunity is rare. If they get it, they need to benefit from it and learn more. It is rare to see this. Even if you don't decorate for others, you can decorate for yourself. I encourage people that whenever such opportunities come, they participate in these skills."
Construction
Omar Aden Hassan, 26: The go-getter
Learning happens in various ways. By watching construction workers at a construction site, Omar learnt the trade and this enabled him to feed his family.  
"I learnt by seeing what people were doing at the construction site. I did not go to any institution. When I got this opportunity to be trained, I learnt so much more. I chose the construction class to perfect my skills."
And as the training progressed, his knowledge and skills in construction also grew.
"Before working on this activity, I never knew much about construction. Now I have more experience in measurement estimations and construction. With the skills I now have confidence to do my work even better."
 Omar (on the far right)
Knowledge shared is knowledge gained.
"After the training, I will also go out and teach the other construction teams in town as well as continue with construction as a skilled labourer. I will also train my friends and relatives who are interested so that they can also learn about construction and have a source of livelihood."
His future seemed bright and he knew how to go about it.
"You don't have to have a company to do anything. Just have a group of people who have the same passion and then set up an office for construction. One can even start a construction consultancy as well and help people."
Tree Nursery Management
Gilo Mude Ali: The environmentalist
Her age did not limit her from learning.
"I am 40 years old and learning new things. Learning something has no limit or age. I took up the tree nursery because we need trees here. This is an arid land and we need a lot of trees. I preferred tree planting so that I keep planting trees. This way the community also benefits by getting a shade and the environment also will change from arid and become green and productive."
She is grateful for this training, as it has opened her eyes to new possibilities
"I thank the organisation for initiating this project. Before I never thought tree planting was a kind of business activity. After going through this process, we learnt that it is also a business."
And a valuable lesson that she learnt was everything is important
"Most times we see something and we don't consider it to be important, but once you learn about it, you realise how important it is. Each household needs trees. I already have 25 trees growing in my compound. I urge everyone to plant trees.
Bee Keeping
Osman Ahmed, 28: The curious mind
His curiosity got the better of him and he enrolled in the bee keeping class
"Before, I never knew anything about bees and bee keeping. All I knew was that bees are dangerous and they can harm you. But I was curios why they would want to teach about bees yet they are dangerous."
And so his curiosity was sated and he discovered much more about the bees.
"I now know that bees are useful insects that can be a source of income. They are small insects but they can also make you a lot of money."
The more he discovered about bees, the more his taste buds yearned for the bees' sweetness
"I am 28 years old. But you won't believe it. I have never tasted honey all my life. I tasted honey for the first time, this year in April. To be exact April 26, 2017. I have written this somewhere so that I will never forget it."
With the taste of the honey a constant memory, he now sees the usefulness of bees
"Through the training, I have come to realise that bee keeping is a source of income. It doesn't also need a lot of resources and you can also create employment.
And once he had the knowledge; there was no stopping him.
"As a student, I got an opportunity to help other organisations set up an apiary or harvest honey. For each operation I did, I would get 30-40 USD."
His word of encouragement:"Always go for what you want and look ahead at the future."
Poultry Farming
Abdikarin Tasfaye, 35: The entrepreneur 
For Abdikarin, nothing is useless. Every skill you attain has a purpose and is useful
"Skills are bigger than everything. Any skill is important."
He had wanted to do construction but along the way, he opted out and instead joined the poultry class and he has never looked back.
"The poultry training has changed my life drastically. We use the eggs for household consumption and the rest we sell and purchase food items and to take the children to hospital. The chicken meat and eggs are also good for malnourished children and so I give my children eggs and chicken meat so that they stay healthy. I learnt all this in class and I am trying to do what I learnt."
And he is not stopping from the sale of eggs, he wants to go full into business and fill the gaps that are in his community
"Through the sale of eggs, I saved and bought a solar panel and now I charge phones as well as. At least everyday I get one USD. But there are also times when I don't get much from charging the phones."
His entrepreneurial mind is always at work for any business opportunity
I am now saving to build a good home for my family. I also saved and bought a TV that I watch with my family. Once I build my home, I will have a room where I will be showing movies at a small fee.
He encourages his community to take up poultry farming.
"The community is running away from rearing chicken. They dislike it as well as its products. But my advice to them is that chickens are highly productive and a great source of income. They should try it."
World Vision held training sessions on business management; forming groups to ensure sustainability of the businesses or projects they will venture into. The students were also given exit packages to start them off. The constructions students were given construction tools like spades and plumb bob line. Poultry students were given at least a chicken and the chicken demonstration houses handed over to the students. The tie & dye students formed groups and rented shops. World Vision equipped the shops with sitting chairs, textiles as well as tie & dye paintings. Bee keeping students were given bee protective gear, gumboots, gloves and the students handed over the apiary that was used for learning. Some of the tree nursery class students were retained to work at the World Vision's tree nursery. The rest are in the process of forming groups. They were also given farming tools like hoes, wheelbarrows and mattocks.