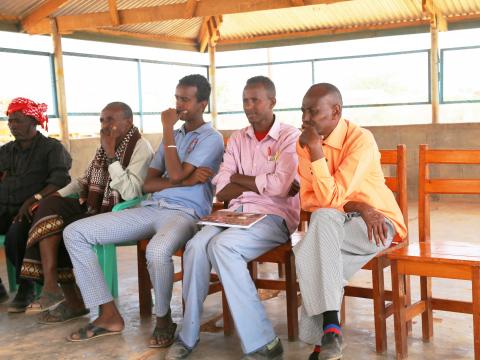 Men for Women
Tuesday, July 5, 2016
It's an ordinary day for the community members of Koosar IDP, Tukolow district, Burao region, Somaliland.Goats and sheep reach upward to browse on the nearby shrubs and bushes; a few chicken cluckle and scratch in the dirt. Women are looking after their children in their homesteads and fending for the family's needs. Some men are out in their various jobs and duties, whereas others meet with other men to discuss various issues that affect their lives. Amidst all these, there are about 15 men who have decided to do ordinary things in an extraordinary way. 
Fathi village savings and loans group is more than just a savings group. This is a group that supports women who have undergone successful fistula surgery and also create awareness in the community concerning fistula. Most of the members are husbands to women who had fistula and underwent a successful surgery and are now reintegrated into the society.
As the chairperson of the group, Muhtaad Abdillahi Adam is grateful for the group and what they have achieved so far since its inception.
Some of the leaders of the Fathi group. On the left, Abdirahman Mohamed Warsame, one of the key holders to the savings box, the group's chairperson Muhtaad Abdilahi Adam (in the middle) 
"We started the group on the 1st of May this year (2016). Our aim for saving is two; one is saving for investment purposes and the other for social fund to cater for our internal needs and supporting each other."
"For the social fund, we hope to use the money for emergency purposes, for example, when one of the group members gets a baby or to give support in other emergency matters. We also intend to increase our savings, and then take loans so as to start our own business, "says Abdirahman Mohamed Warsame, one of the group's treasurer.
In terms of support, the men create awareness to the community concerning fistula. This awareness has seen more women who were hiding come out and get treatment. The stigma-surrounding fistula in the community has also reduced and more women support those who are affected. In terms of savings for investments, they save to help each other financially.
The group hopes to save 3,000 (4 USD) Somaliland shillings on a monthly basis. Out of this money, they will save 2,000 Somaliland shillings (2.6 USD) as savings for investments and 1,000 Somaliland shillings (1.3 USD) as social fund to cover their personal needs as well as of the community.
The group's savings box and some of the money that they have saved so far
The main goal of the group according to Abdirahman, is to strengthen their savings group so that they do something amongst themselves as well as help others in the community who are vulnerable.
"For instance, we will help women who have health problems and they have no money for treatment or help parents pay school fees for their children who cannot pay school fees for their children," says Abdirahman.
The group also got support from World Vision in the form of training. Through the training they got ideas and information that broadened their minds on financial knowledge.
"We are thankful to the organisation because they supported us through training. All we were taught, we have applied," says one of the group's members.
"The training that we got from World Vision," adds Abdirahman, " was great and we learnt that we can have our own development. The other important thing that they taught us was how to support each other as a group as well support community members."
Abdirahman Abdillahi Ahmed, is a member of the group whose wife suffered from fistula and she is now treated and healthy. At the time of his wife's illness he didn't know anything about fistula and he also didn't have a job.
Abdirahman Abdillahi Ahmed, a member of the Fathi group whose wife had fistula and is now fully recovered
"World Vision helped my wife who was very sick and they treated her. During her illness my children and the entire family were not happy since the mother is the backbone of the family. Our constant worry was how sick she was. But God sent us this organisation and they referred her to a hospital, treated her and re-integrated her back to the family. When she returned, we were so happy to have her back because when she was away I was the father and the mother. When she came back we felt the change in the home once again.'
He concludes by saying, "It's not only I that the organisation supports, but also the whole community and we hope that they will continue this good work to other communities as well."
As the only men's group in the region, they hope to grow in terms of membership and finances and through awareness creation as well as encourage more men to create groups like this for their own development.
Since 2008,WV Somalia, with support from WV Korea has been working with community networks, local partners, and the Borama Fistula Hospital to support fistula victims in the Ceelahey area and the environs of Hargeisa and Togdheer region of Somaliland. The physical consequences of obstetric fistula lead to severe socio cultural stigmatization and marginalization. Women and girls suffering from fistula are often abandoned by their husbands and relatives as well as stigmatized and marginalized by their communities, causing them extreme economic hardship and psychological trauma. Obstetric fistula typically affects the poorest of the poor.
WV Somalia's fistula project has been very successful
in the community because it has changed the lives of beneficiaries by reducing their pain, reducing the cause of their stigmatization and ostracization, allowing them to pursue economic activities again and reintegrate with their communities. So far the fistula Programme has supported 147 women