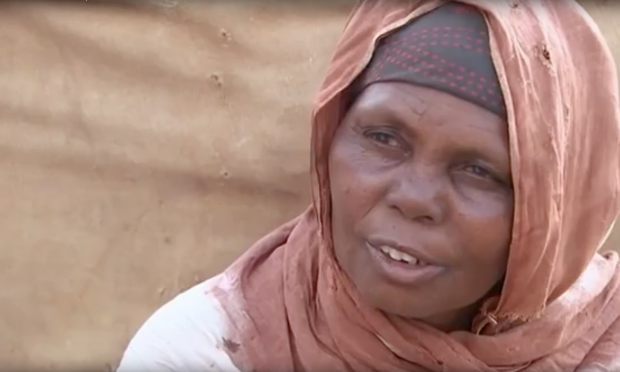 Women continue to express their distress and fears as they struggle to cope with the dreaded famine that has left over six million people (about 50 percent of the population) facing acute food insecurity in Somalia.
As the drought continues to bite, children and women suffer most and lack of food, water and proper sanitation easily catalyses the spread of diseases like diarrhea and cholera.
In most of the Internally Displaced Peoples' (IDPs) Camps women count losses as they tell  of how they have lost their children or are left widowed due to the effects of the  hunger crisis.
Nurta Ali, 23-year-old mother of two left the village as a wife and ended up a widow. Her children were out to look for reeds to construct their makeshift structure. Her friends at the IDP camp in Baidoa, helped her to construct the structure where she would stay with her kids.
Nurta's husband fell ill on their way to Baidoa in search of food and water, unfortunately, he died a few days after arrival.
"My husband had a stomach problem and swelling on the legs. It's sad that he died. The roads are blocked, there was no food in the village, and people are very hungry and falling sick. The drought has never been like this. I know I don't have anywhere to go that is why I came to this camp to see if I can get help to survive. We will share our problems in the camp until I go back to the village if things get better," she narrates.
In another IDP camp in Baidoa, Suray could not stop expressing the pain she feels for losing all her 7 children. One by one in a span of two weeks they were no more. "Other people have their family and relatives, but I am alone here. I lost all my children. It is hard and I feel the pain of a mother." She says.
Some of her children died on their way to Baidoa. "They were very weak after a long distance walk. Some good people helped me to bury them in one of the villages along the way. One of my children died in a place where there was no village, so I met people who helped me burry the child on the way (by the roadside). Even the grave was not dug well," she grieves.
"After losing my husband and now my children, I even could not hold myself. People helped me to get here (the IDP camp). I really feel pain. So much pain. Two of my children died on the same day. One in the morning and another in the evening," Suray recounts.
Nurta and Suray are just two among more than 600,000 people who have been displaced since November 2016 due to the drought in Somalia. The situation is deteriorating rapidly - 71,000 children under five are severely malnourished, with over three million people facing terrifying food shortages.
These families are grappling with hunger since the drought started biting Somalia in 2016 contributing to malnutrition of children, women and elderly persons.
Hirbo Mohamed a mother of three who had brought her child to a mobile clinic run by World Vision at Usgure Village in Puntland says: "My child was found to be malnourished. He was given some plumpy'nut. I feel sad because the drought condition is deteriorating and we don't have any source of livelihood as all our animals are dead and our children are getting sick and weak because of lack of food."
Hirbo was forced to travel with just one of her children and left the other two with her mother and family. Her husband also left to look for food and water with other family members.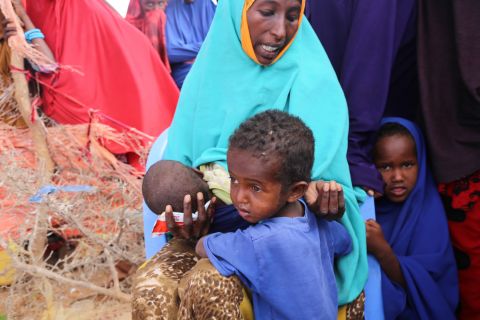 Hirbo Mohamed a mother of three who had brought her child to a mobile clinic run by World Vision at Usgure Village in Puntland
The lack of water and pasture has deteriorated livestock body conditions, access to livelihoods, increased livestock concentration and overgrazing, depleted agricultural production and increased the number of internally displaced people.
"After all my animals died, I came to Usgure from Mudug region hoping to get some help. I have nothing. I depend on what the community provides for us. When I had my livestock, my family had enough to eat. Now I have nothing and that is why my child is malnourished. We appreciate any help, especially food for us and fodder for the animals," explains Abshiro Said Jere, 19 year-old mother of one.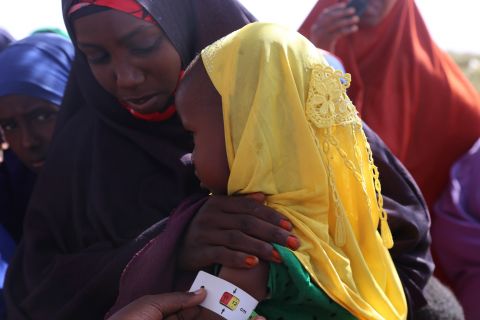 Despite the challenges, World Vision in partnership with other aid agencies is scaling up its response scope to save lives with live-saving food, medical care, clean water and more to prevent people from slipping into famine in the coming months.
Since January to 3rd May, World Vision -through its response- has reached 218,550 people with food security and food assistance, health assistance, water, sanitation and hygiene services, nutrition services, education as well as non-food items.
World Vision is seeking US$37 million to provide life-saving assistance to over 1 million drought affected people in Puntland, Somaliland, South West State and Jubaland between January and December 2017.