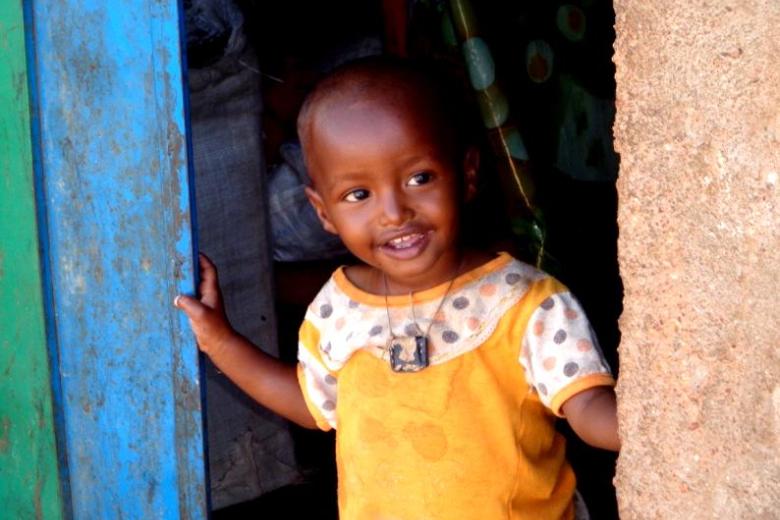 Nutrition Programmes bring hope to the Children of Somalia
Friday, March 14, 2014
Safia is a 3-year-old girl who lives in Godobjiran, Somalia. She lives with her brother ,Ahmed, and her parents, Hawo and Abdirahman. While Safia's mother Hawo takes care of her two children, her father looks after the families few livestock. The family is poor and her father has been having difficulties finding a job.
World Vision met Safia when nutrition staff conducted a community outreach activity in her village. She was found to be suffering from high fever and was treated immediately. She was screened for malnutrition by measuring her weight, height and mid upper arm circumference (MUAC). The diagnosis revealed that she was suffering from moderate malnutrition, and was admitted in the nutrition program.
Hawo was asked to bring Safia to the World Vision health center every week for check ups and to collect a weekly supply of plumpynuts (a peanut based nutritious paste used to treat moderate malnutrition among children under 5 years). The treatment administered to her also included a regular ration of complimentary food rations for the rest of the family.
After several weeks of faithful visits to the health center and careful feeding, Safia's MUAC had improved from 11.9 cm to 13 cm. The jolly girl had gained weight and was strong enough to be discharged from the feeding program.
"This program has saved Safia from sliding into the critical stage of malnutrition that often leads to death." Says Michael Abaasiku, the World Vision Nutrition Manager in the area.
World Vision through such interventions brings hope to thousands of children every year.
World Vision staff screens Safia during a first meeting- the MUAC shows moderate acute malnutrition
Safia's MUAC has improved after she received support in the OTP. Below: Safia with her parents and her brother
World Vision in partnership with WFP through an Outpatient Therapeutic Program continues to provide nutrition support to severely and moderately malnourished children below 5 years using plump nut, UNIMIX and medicines for deworming and treating minor infections.
Targeted groups of mothers and caregivers are trained on how improve nutrition among children, the importance of breastfeeding, and developing healthy lifestyles. Psycho-social support is also included into the projects to help improve children's growth, and ensure basic support is provided for mothers.
While lifesaving interventions such as the nutrition programs are critical, World Vision seeks to improve agricultural production and environmental conservation to enable families produce their food and build resilience. This is done through supporting families with access to quality farm inputs including seeds, and farming tools to assist these families to start agricultural production activities.
World Vision also seeks to promote restocking in smaller herd sizes for pastoralist families. High yielding goats are distributed to selected beneficiaries as breeding stock for increased production of milk and livestock.