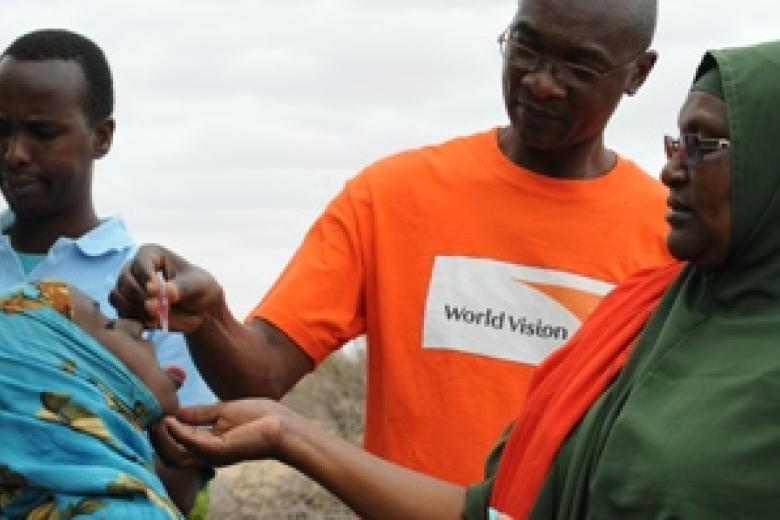 Polio Outbreak in Somalia
Friday, September 27, 2013
Somalia is facing a polio crisis following an outbreak that began in May 2013. The latest report by the Global Eradication Initiative indicates that 185 polio cases have been confirmed across the Horn of Africa, most of them being in South Central parts of Somalia. The first reported case of Polio occurred in Mogadishu in May this year before spreading to other regions and neighbouring countries. 
The total number of Wild Polio Virus 1 (WPV1) cases in Somalia now stands at 169. There is a significant risk that the outbreak will extend beyond six months due to large numbers of under vaccinated children in Somalia; hence outbreak response is to continue into 2014.
World vision launched a polio immunization campaign in Dollow on the 18th of September 2013 that saw more than 420 children immunized. Routine immunization services and an awareness increase of polio through health messaging are also being carried out. World Vision is targeting approximately 100,000 children over a period of six months. Luuq and Baidowa districts in South Central Somalia are also being targeted for the immunization process.  
So far 1,131 children have been vaccinated against polio in Hawalajiro and other villages surrounding Dollow town. 206 children in Somaliland and 367 in Puntland have also been vaccinated. 
Although no polio case has been reported in World Vision project areas, two districts in Gedo region have recorded 3 cases. This can be attributed to continuous routine immunization activities targeting children under one that has ensured as many children are vaccinated against polio and other diseases including whooping cough, diphtheria, pneuomonia, measles and tetanus. Dollow districts in Gedo region have been noted as a high-risk area owing to the high levels of mobility of refugees and Internally Displaced People (IDPs).
In addition to the continual routine immunization activities, there are also surveillance teams working with health care workers and spear headed by World Health Organization (WHO) and Ministry of Health (MOH), who survey children who are/not vaccinated. Community mobilization sessions in Luuq and Dollow are also being carried out.