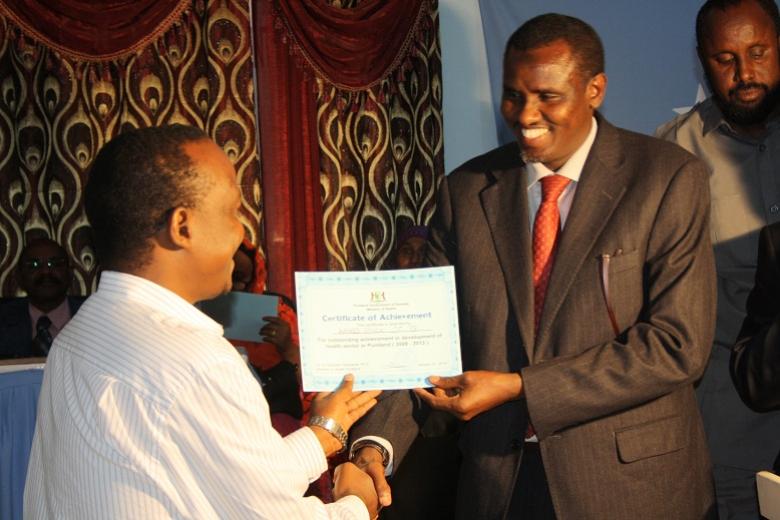 Puntland Office Awarded
Wednesday, February 19, 2014
The World Vision Puntland office has received an award for active participation in combating tuberculosis from the Ministry of Health. The outgoing Minister of Health, Dr. Ali Warsame recognized the Global Fund TB Program (2009-2013) for outstanding achievement in development of the health sector in Puntland, during a ceremony held in Garowe on 5th February 2014.
"The aim of the awards is to recognize and celebrate outstanding achievement by humanitarian agencies in the state of Puntland." Dr. Warsame said.
TB control is high on the government's public health agenda. Since 2004, the World Vision Global Fund TB program has enabled people to access services for detection and effective treatment of tuberculosis, and to facilitate the effective delivery of TB services by government. Over 100,000 TB patients have been treated successfully in the 67 centers spread across the country.
 The ceremony that brought together over 50 guests from UN agencies, INGOs, LNGOs as well as Government officials also saw the official hand-over to the newly appointed Minister of Health, Dr. Sadik Mohammed Enow (MD).  In his remarks, the new minister Dr. Sadik, appreciated the growth that the health sector has experienced over the last 5 years attributing this to great support from partners. Other organizations that received certificates in different categories included UNICEF, Save the Children, UNFPA and SRCS.