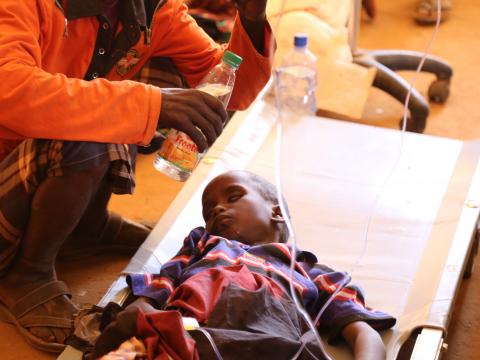 Woes of acute diarrhoea in drought ravaged Somalia
Thursday, April 6, 2017
Story By Lillian Omariba, Senior Communications Manager
Nine-year–old Ali, is rushed to Bay Hospital in Somalia, unconscious and severely dehydrated. Doctors and nurses run to save a life.  
The boy's eyes are sunken, rolled up, he cannot make any movement and all you can see is a mild heartbeat. His father wipes tears rolling down his cheeks, as he is anxious and not sure his son will survive. They have come from a village in Khorile, about 20 kilometres away from Baidoa town in South Central Somalia.
But through prayers and swift response, the doctors quickly put two IV lines on his hands for rehydration. Fifteen minutes after receiving 1000mls of hydration, Ali opens his eyes. "Water, give me water," he says to his father. Thank God they made it to the hospital just in time. Back in the village, his two brothers have measles, and later in the day the father has to go back to check on them. He leaves Ali with his uncle Ibrahim Abdi to take care of him at the hospital.
Ali, 9 looks on to his father with hope, 15 minutes after he received treatment and asks him for water. He was rushed to hospital unconscious due to dehydration.
Hours later, his uncle Ibrahim says: "He has now improved. He is drinking water and he can speak. He even asked for food. He was sleeping and when he woke up he noticed he was somewhere, he asked for his mother."
Due to the depletion of water sources as a result of severe drought in Somalia, some communities are relying on buying water, the prices of which are spiking beyond the reach of many. Communities are then forced to resort to unsafe water sources, increasing the risk of water-borne diseases such as Acute Watery Diarrhoea (AWD/cholera). According to the UN, a total of 7,909 AWD/Cholera cases and 196 deaths have been reported in 11 regions (38 districts) since the beginning of 2017.
There are many like Ali who have fallen ill for drinking contaminated water or are lacking that useful commodity that gives life.
Nunay Awiyow is from Nebsoy village,about 34 kilometres from Baidoa the capital in the southwestern Bay region of Somalia.
Her four children fell ill with ADW/Cholera. She rushed them to a nearby clinic just across the frontline. Unfortunately, there were no medicines, however, medical staff referred her to Bayhaaw hospital which is supported by World Vision. Taking what little money she could come up with, she rented a three-wheeled bicycle taxi and ferried her four children to the hospital. Unfortunately, her five-year old daughter succumbed while on the way to hospital.
Nunay, a strong woman, recounted how her three other children Nadhifa (aged 11- girl), Fartum (aged-8- boy), Shamsa (aged-3, boy) were received in the emergency care unit at night and provided immediate treatment.
Twelve hours later, the grieving Nunay notes as she busily shoos flies away from her three recovering children that "they are responding well to medicine". In this darkest moment, Nunay finds space in her heart to be grateful for the emergency treatment facility. "Am thankful that this hospital is in place. My children are getting the help and care they need. Am hopeful they will get well," she says.
Thanks to funding from Office of Foreign Disaster Assistance (OFDA), World Vision and the Ministry of Health Southwest State continue to provide supplies, keeping facilities like Bayhaaw hospital stocked to receive patients day and night. World Vision is helping to provide immunisation and Oral Rehydration Treatment for AWD cases to newly displaced and malnourished people arriving into town.
There are thousands of other women like Nunay, risking the safety of their families to seek treatment within the larger towns. Access into militia-controlled areas remains a challenge, limiting the ability of aid agencies to reach desperate families.
According to the Health/WASH Cluster AWD Situation Report there have been 4,026 cases of reported with 913 new cases reported the second week of February. 
Water sources are drying up, desperate people, many of them sick, are moving to urban centres like Baidoa town. They join already vulnerable groups, weakened by food insecurity, in makeshift camps all over town. The risk of contamination is high.
Helaule Osman, also nursing his three children, Hussein -10, Mariam -13 and Mohamed -10 who were admitted at the Bayhaaw Cholera treatment centre, had just buried his other two children who succumbed to acute diarrhoea.
"When I brought my children here, they were so weak, vomiting and [they had] a lot of diarrhoea. We don't have any hospital at the village and many people are also sick back there. We met someone in the village who told us about a special hospital in Baidoa that treats this disease and that's how I came here," Helaule explains.
"I had five children, but two have already died. We don't have clean water in the village. What is there is bitter, not even animals can take. The drought is worse than what I have seen in the past," he adds.
With funding from the OFDA, World Vision and the Ministry of Water and Sanitation Southwest state have established a mobile water quality testing unit.