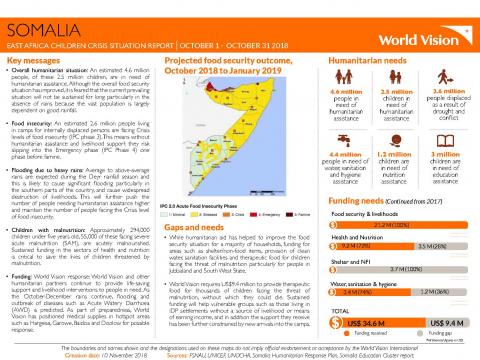 Responding to emergencies in Somalia - October 2018 Situation Report
Thursday, November 15, 2018
KEY HIGHLIGHTS
Overall humanitarian situation:An estimated 4.6 million people, of these 2.5 million children, are in need of humanitarian assistance. Although the overall food security situation has improved, it is feared that the current prevailing situation will not be sustained for long particularly in the absence of rains because the vast population is largely dependent on good rainfall.
Food insecurity:An estimated 2.6 million people living in camps for internally displaced persons are facing Crisis levels of food insecurity (IPC phase 3). This means without humanitarian assistance and livelihood support they risk slipping into the Emergency phase (IPC Phase 4) one phase before famine.
Flooding due to heavy rains:Average to above-average rains are expected during the Deyrrainfall season and this is likely to cause significant flooding particularly in the southern parts of the country, and cause widespread destruction of livelihoods. This will further push the number of people needing humanitarian assistance higher and maintain the number of people facing the Crisis level of food insecurity.
Children with malnutrition:Approximately 294,000 children under five years old, 55,000 of these facing severe acute malnutrition (SAM), are acutely malnourished. Sustained funding in the sectors of health and nutrition is critical to save the lives of children threatened by malnutrition.
Funding:As the October-December rains continue, flooding and outbreak of diseases such as Acute Watery Diarrhoea (AWD) is predicted. As part of preparedness, World Vision has positioned medical supplies in hotspot areas such as Hargeisa, Garowe, Baidoa and Doolow for possible response.