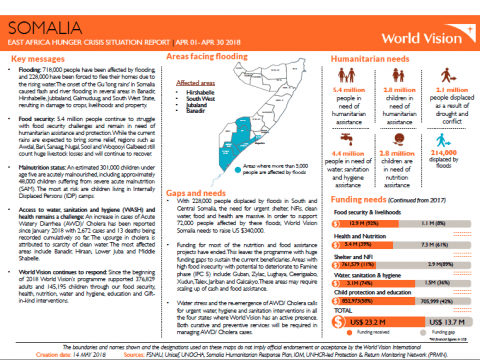 Responding to Somalia's Hunger Crisis - April 2018
Wednesday, May 16, 2018
A total of 115,811 people in crisis in Somalia were reached with World Vision's response in April 2018. 
KEY ACHIEVEMENTS:
70,016 children reached through various response activities 
21,660 people received food assistance and income-earning opportunities through various food security and livelihood programme models
32,360 people were able to access clean water, sanitation and hygiene services
39,581 people received health care assistance
64,450 children under age 5, pregnant women and breastfeeding mothers were reached with nutrition services
22,571 people received essential relief items in the aftermath of flooding in their communities
Still, there is more work to do. 
KEY CONCERNS: 
Flooding: More than a 700,000 people are affected by flooding in  Somalia, with more than 200,000 people forced to abandon their homes due to rising waters.

Food insecurity

: 

5.4 million people continue to struggle 

with food security challenges and remain in need of 

humanitarian assistance and protection. While the current 

rains are expected to bring some relief, regions such as 

Awdal, Bari, Sanaag, Nugal, Sool and Woqooyi Galbeed still 

count huge livestock losses and will continue to recover.

Concerns about child malnutrition

: An estimated 301,000 children under 

age five are acutely malnourished, including approximately 

48,000 children suffering from severe acute malnutrition 

(SAM). The most at risk are children living in Internally 

Displaced Persons (IDP) camps.

Waterborne disease outbreak: Access to water, sanitation and hygiene (WASH) and 

health remains a challenge: An increase in cases of Acute 

Watery Diarrhea (AWD)/ Cholera has been reported 

since January 2018 with 2,672 cases and 13 deaths being 

recorded cumulatively so far. The upsurge in cholera is 

attributed to scarcity of clean water. The most affected 

areas include Banadir, Hiraan, Lower Juba and Middle 

Shabelle.
World Vision continues to respond.
Since the beginning of 2018 World Vision's programme supported 376,829 adults and 145,195 children through our food security, health, nutrition, water and hygiene, education and Gift-in-kind interventions.
For more information about World Vision's response achievements, locations and other details, please download (pdf) our April 2018 Situation Report.