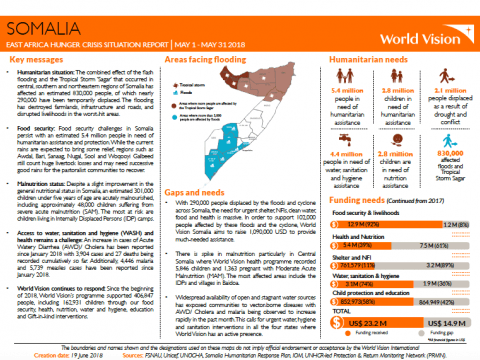 Responding to Somalia's hunger crisis - May 2018
Tuesday, June 19, 2018
More than 198,000 people were reached in May 2018 through World Vision's response to food insecurity and flooding throughout Somalia. The response team reached: 
153,491 people with food security and livelihood activities
36,083 people with clean water and sanitation services
35,464 peole with nutrition assistance
30,018 people with health care services
27,722 people with shelter and other essential relief items
3,100 children reached through education programmes
1,453 people with protection assistance
Still, there's more to do. 
World Vision remains concerned that: 
The combined effect of the flash flooding and the Tropical Storm 'Sagar' that occurred in central, southern and northeastern regions of Somalia has affected an estimated 830,000 people, of which nearly 290,000 have been temporarily displaced. The flooding has destroyed farmlands, infrastructure and roads, and disrupted livelihoods in the worst-hit areas.
Food security challenges in Somalia persist with an estimated 5.4 million people in need of humanitarian assistance and protection. While the current rains are expected to bring some relief, regions such as Awdal, Bari, Sanaag, Nugal, Sool and Woqooyi Galbeed still count huge livestock losses and may need successive good rains for the pastoralist communities to recover.
Despite a slight improvement in the general nutritional status in Somalia, an estimated 301,000 children under five years of age are acutely malnourished, including approximately 48,000 children suffering from severe acute malnutrition (SAM). The most at risk are children living in Internally Displaced Persons (IDP) camps.
Access to water, sanitation and hygiene (WASH) and health remains a challenge: An increase in cases of Acute Watery Diarrhea (AWD)/ Cholera has been reported since January 2018 with 3,904 cases and 27 deaths being recorded cumulatively so far. Additionally, 4,446 malaria and 5,739 measles cases have been reported since January 2018.
To address these issues, and meet the needs of people in need, World Vision has requested an additional $14 million to expand its response. Since the beginning of 2018, World Vision's programme supported 406,847 people, including 162,931 children through our food security, health, nutrition, water and hygiene, education and Gift-in-kind interventions.
For more information about World Vision's response in Somalia, please download our May 2018 Situation Report.