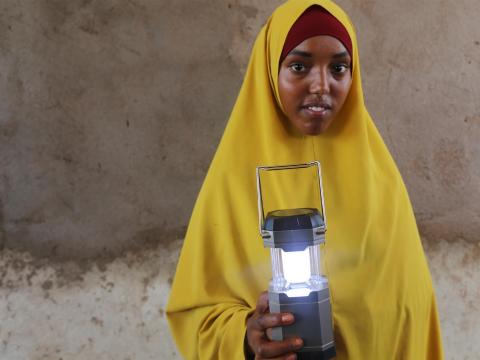 Solar Lamps Are Powering Girls Education
Wednesday, February 27, 2019
She was calm. The epitome of gentleness and quietness. Her inner struggles were well hidden. Her thoughts well contained. At 15 years of age, Rahma would have been married, but she was lucky to be in school.
"My mother made a decision that we come to look for food as well as education for me. I will be the only one educated in my family. I am very happy," says Rahma.
Rahma is in standard (grade) two. It didn't matter that she was older for that grade. All that mattered was that she was in school. "My life has changed because I am now learning," she adds.  You could see her joy through her wide shining eyes.  You could not help but feel her excitement. Her joy is so contagious.
Her aunt and her mother who she travelled with wants her to get education. Rahma has no brother but a younger sister who she hopes will also join school someday. She left her home village almost 35 kilometres away from Baidoa town, in South central Somalia. In her hometown, fighting between armed groups is common. Girls have little chance to go to school and are married off shortly after they reach puberty.
Due to protracted violence, coupled with the negative effects of an ongoing drought, Rahma, her mother and her auntie left their hometown and relocated to an Internally Displaced People's camp (IDP) in Baidoa town.
But this changed, thanks to a World Vision International, Rahma was absorbed in the children's charity integrated education project recommended to her mother by the IDP camp leader. She can get her education, benefits from Water Sanitation and Hygiene (WASH) supplies like sanitary kits and enjoys 2 hot meals provided in the school programme at Towfiq IDP in Baidoa.
That is how Rahma became a beneficiary among many other children that benefitted through the solar lamps program by WVI that provided thousands of displaced women and girls in Baidoa and Wajid districts with solar lamps. She was among the other pupils who benefitted from the solar lamps programme to enable them to do their studies and homework during the dark hours of the night.  
"My life has changed because I am now learning," she said.  "I use the lamp with my family to light the path while using the toilets at night without fear as we can see who is coming from a distance." She added.
Rahma feels empowered and more hopeful about her future. She is confident she will be able to pursue her dream to become a nurse in order to help others. "I want to be a nurse," she said. "People are suffering because of lack of nurses and because  of  that,  I  want  to  serve  my  community as  a  nurse."
Regina  Marete, Commodities  Officer for World  Vision in Somalia said: "Solar lamps are an effective tool to keep girls going to class and up to speed with the lessons the teacher is providing.  Besides that, a simple thing as a solar lamp helps to prevent gender-based violence within the camps as they provide lighting. Women can cook outside their hats and sell their vegetables outside their huts in the evenings. I have listened to the men say with pride that their daughters, wives and sisters now feel safer."
"Sometimes it's just a simple thing that makes the difference between a child staying or dropping out of school," she adds.
 In spite of her renewed hope, Rahma is still worried about insecurity in some parts of her country, where many more have been displaced.
 "With peace everything will be good.  With peace we can have schools and move around," she said.
Berryl Auma, technical specialist for education and child protection, World Vision Somalia said: "In many fragile contexts, displacement can be unsettling for children, girls' development is threatened and they are vulnerable to risks like criminal violence or sexual assault among other challenges. These conditions rob children of their freedom to play, to move freely or to go to school.
"Without an education, girls have fewer opportunities and are more likely to earn less in the future. Girls need an environment where they can be safe to fully reach their potential and to adequately contribute to their communities as adults," she added.
About the project 
Project Goal: To increase the safety of newly displaced women and girls and protection from gender-based violence in 29 IDP camps in Baidoa and Wajid districts, Southern Somalia.
The project targeted 7,600 beneficiaries (5866 women, 1134 men and children) between 30th January and 5th February 2018.
The solar lamps project was integrated with other projects WVI is implementing such as Nutrition, Peace Building Funds and Somalia Humanitarian Fund (SHF), as well as a Shelter project.
Beneficiaries included new arrivals with small children under 3 who are marginalised, elderly women over the age of 70, men who are housing girls in their shelters as guardians and disabled people.
The lamps are solar-powered and can be charged with solar energy, this is why they are mostly preferred in the IDPs during the dry or hot season when the beneficiaries can easily recharge them by placing them outside their shelters.
When the beneficiaries move from the shelter areas to places with electricity, they can charge their lamps or use AA batteries. 
The lamps are able to provide lighting at an approximate radius of 5 metres; are long lasting to the tune of 5 years according to the supplier and instructions on use.