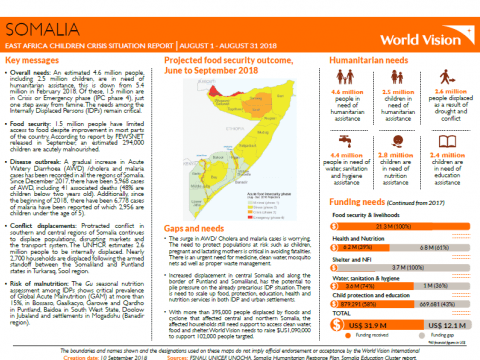 Somalia - August 2018 Situation Report
Wednesday, September 19, 2018
Overall needs: An estimated 4.6 million people, including 2.5 million children, are in need of humanitarian assistance, this is down from 5.4 million in February 2018. Of these, 1.5 million are in Crisis or Emergency phase (IPC phase 4), just one step away from famine. The needs among the Internally Displaced Persons (IDPs) remain critical.
Food security: 1.5 million people have limited access to food despite improvement in most parts of the country. According to report by FEWSNET released in September, an estimated 294,000 children are acutely malnourished.
Disease outbreak: A gradual increase in Acute Watery Diarrhoea (AWD) /cholera and malaria cases has been recorded in all the regions of Somalia. Since December 2017, there have been 5,968 cases of AWD, including 41 associated deaths (48% are children below two years old). Additionally, since the beginning of 2018, there have been 6,778 cases of malaria have been reported of which 2,956 are children under the age of 5).
Conflict displacements: Protracted conflict in southern and central regions of Somalia continues to displace populations, disrupting markets and the transport system. The UNHCR estimates 2.6 million people to be internally displaced. Nearly 2,700 households are displaced following the armed standoff between the Somaliland and Puntland states in Turkaraq, Sool region.
Risk of malnutrition: The Gu seasonal nutrition assessment among IDPs shows critical prevalence of Global Acute Malnutrition (GAM) at more than 15%, in Bossaso, Gaalkacyo, Garowe and Qardho in Puntland, Baidoa in South West State, Doolow in Jubaland and settlements in Mogadishu (Banadir region). For more information, read or download our August 2018 situation report