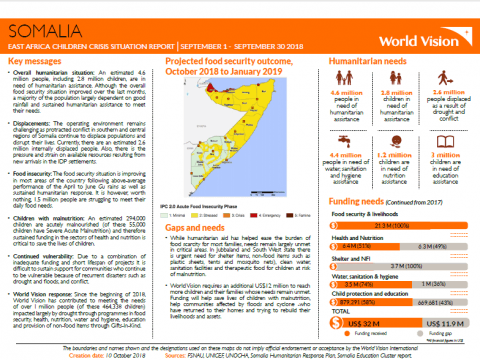 Somalia - September 2018 Situation Report
Tuesday, October 16, 2018
Overall humanitarian situation: An estimated 4.6 million people, including 2.8 million children, are in need of humanitarian assistance. Although the overall food security situation improved over the last months, a majority of the population largely dependent on good rainfall and sustained humanitarian assistance to meet their needs.
Displacements: The operating environment remains challenging as protracted conflict in southern and central regions of Somalia continue to displace populations and disrupt their lives. Currently, there are an estimated 2.6 million internally displaced people. Also, there is the pressure and strain on available resources resulting from new arrivals in the IDP settlements.
Food insecurity: The food security situation is improving in most areas of the country following above-average performance of the April to June Gu rains as well as sustained humanitarian response. It is however, worth nothing, 1.5 million people are struggling to meet their daily food needs.
Children with malnutrition: An estimated 294,000 children are acutely malnourished (of these 55,000 children have Severe Acute Malnutrition) and therefore sustained funding in the sectors of health and nutrition is critical to save the lives of children.
Continued vulnerability: Due to a combination of inadequate funding and short lifespan of projects it is difficult to sustain support for communities who continue to be vulnerable because of recurrent disasters such as drought and floods, and conflict.
World Vision response: Since the beginning of 2018, World Vision has contributed to meeting the needs of over I million people (of these 464,338 children) impacted largely by drought through programmes in food security, health, nutrition, water and hygiene, education and provision of non-food items through Gifts-In-Kind.
For more information, read or download our September 2018 situation report.