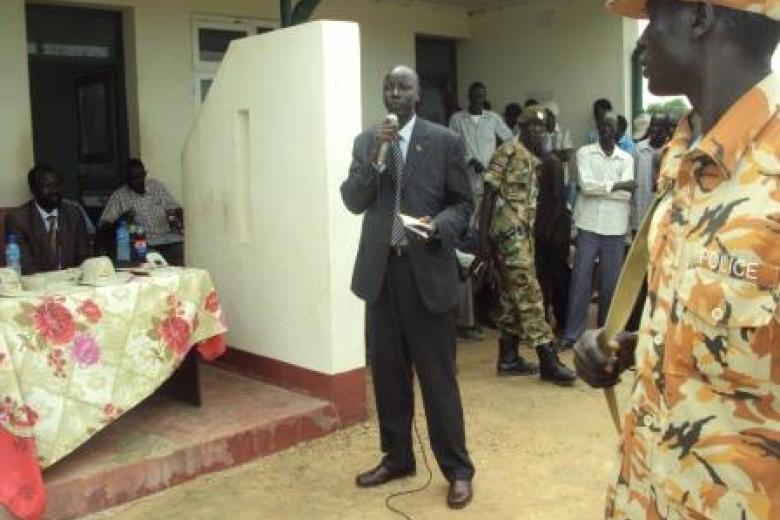 World Vision South Sudan helps increase food production
Thursday, June 20, 2013
Tonj North County, April 2013 - Mr. Majok Bol Kur, Minister of Agriculture and Forestry of Tonj North County in Warrap State, noted that World Vision South Sudan is the first organization to have aligned its work with some of the top priorities of the Republic of South Sudan - freeing the country from hunger by 2015.  World Vision donated 174 oxen to some residents of Tonj North County.
Minister Majok made the remarks during the graduation ceremony following an ox plough training offered by World Vision South Sudan to 75 small holder farmers.  Some 120 women were also trained on vegetable production including planting techniques, crop spacing, pest control, and weeding. 
Lt. Col. Marko Awuoc Kuot, Commissioner of Tonj North County, commended the work of World Vision South Sudan saying that his County will be food secure this year and the years to come.  "I would like to see World Vision introduce that new technology and farming methods to residents in the remote areas as it will help them increase agricultural yields.
"I am so happy; imagine I have managed to cultivate 12 feddans," said Mayual Mawut, a farmer recently trained by World Vision on how to farm with oxen.  "This year, food will not be a problem for my family.  World Vision has really changed our status from being food insecure family to food secured," he concluded.
World Vision South Sudan is currently implementing a Food Security Project in Tonj North County, Warrap State.  The project is funded by World Vision United States.  The main goal of the project is to contribute to increase food production and strengthening communities' resilience to food crises.
END