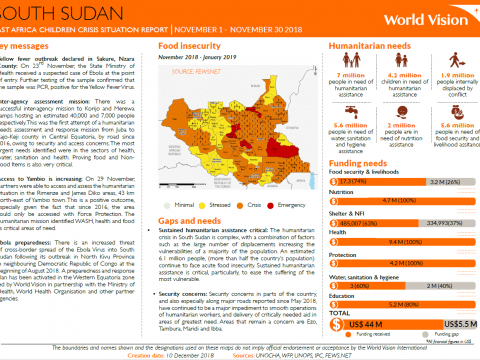 South Sudan-November 2018 Situation Report
Thursday, January 3, 2019
Yellow fever outbreak declared in Sakure, Nzara County: On 23rd November, the State Ministry of Health received a suspected case of Ebola at the point of entry. Further testing of the sample confirmed that the sample was PCR, positive for the Yellow Fever Virus.
Inter-agency assessment mission: There was a successful inter-agency mission to Korijo and Merewa camps hosting an estimated 40,000 and 7,000 people respectively. This was the first attempt of a humanitarian needs assessment and response mission from Juba to Kajo-Keji County in Central Equatoria, by road since 2016, owing to security and access concerns. The most urgent needs identified were in the sectors of health, water, sanitation and health. Proving food and Non-Food Items is also very critical.
Access to Yambio is increasing: On 29 November, partners were able to access and assess the humanitarian situation in the Rimenze and James Diko areas, 43 km north-east of Yambio town. This is a positive outcome, especially given the fact that since 2016, the area could only be accessed with Force Protection. The humanitarian mission identified WASH, health and food as critical areas of need.
Ebola preparedness: There is an increased threat of cross-border spread of the Ebola Virus into South Sudan following its outbreak in North Kivu Province in neighbouring Democratic Republic of Congo at the beginning of August 2018. A preparedness and response plan has been activated in the Western Equatoria zone led by World Vision in partnership with the Ministry of Health, World Health Organisation and other partner agencies.
For more information read or download the report.