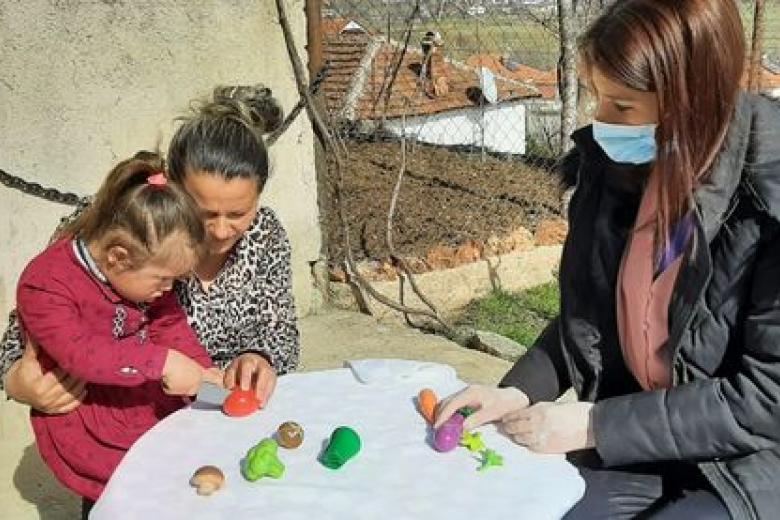 Amara, the little girl with Down Syndrome, who gives so much love
Monday, January 17, 2022
She enjoys listening to fairy tales, feeling the music deeply, and dancing beautifully. We are talking about Amaralis, a 6-year-old girl from Prrenjas. When you first meet Amara, you notice how brightly her eyes shine and how much light she radiates from within. She is timid by nature, yet she is also kind, peaceful, and capable of expressing both good and negative feelings.

The little girl was diagnosed with Down Syndrome from the time she was born. Her doctor noticed something was wrong with her image after examining her. The doctor's first concerns were confirmed after the first test. Amara's parents then went through a difficult period, not only because they did not know how to deal with the newborn, but also because they did not know how to cope with the situation. Klevina, her mother, tells us that the first few years were challenging, and that she was concerned about her daughter's health, as any mother would be, while eager to watch her grow and develop.

"In the early years, Amara drank milk on a regular basis, but ate very little food. She began talking at the age of one and a half, and she began walking at the age of two. Occasionally, the first word has been "ba-ba". Amara's third year has been the loveliest of her life, not only for her but also for us, since she began joyfully playing with her sister," says her mother.

During the meetings in Amara's house, it is noted that she has a close bond with her mother and sister, which may be since her father has been abroad for years. He is the family's sole source of income, since the mother is unemployed and responsible for her two daughters, particularly Amara, who needs extra care. The bond between the two sisters, on the other hand, is just as strong. Her sister takes her to kindergarten every day, where she plays and interacts with all her peers.

Participation in the "Hello... Life" programme
Amaral is one of the children with disabilities who benefit from the Hello... Life Programme implemented by World Vision Albania and Kosovo. She had never had therapy before, simply the obligatory medical appointments, which her parents believed indicated that Amara was not developing as well as her peers and that she needed developmental therapy. The little one has been receiving developmental therapy from the team psychologist once a week since April 2020, while the social worker advises the family on their social difficulties, and this assistance has been provided without interruption, even during the COVID-19 isolation.

Fëllënza, Amara's therapist and psychologist, has formed a strong collaboration with the girl's mother and has won the young girl's heart, who waits for her all smiles and joy.

"Amara's communication has improved because of her stable relationships with those around her. She enjoys listening to fairy tales and songs. She maintains eye contact, concentrates on the math counter, counts from one to ten, and writes the numbers 0 and 1. She has a good understanding of colors and can categorize them. She enjoys working with vibrant colors and puzzles. She knows vegetables very well and understands how to combine them based on their function. "With our guidance, she is able to color inside the lines very well,"

Fëllënza, the team therapist, explains. Despite the challenges, Amara's family is happy with her development and, more importantly, with the continuance of therapy even throughout the pandemic, as this has helped Amara maintain the pace of learning and interaction.

"I love being Amara's mother. My daughter is kind, peaceful, and cheerful. She speaks clearly, exactly like other children, and is only shy when she meets new people. There are challenges, but I am certain that with the support of the therapist, we will succeed. I am extremely pleased with the "Hello Life" programme and wish to continue receiving this service for a long time because Amara has much improved recently," says Amara's mother, Klevina.
Amara dreams of being an educator and caring for children, whereas her parents have just one wish for their child: that she is healthy and successful at all times.