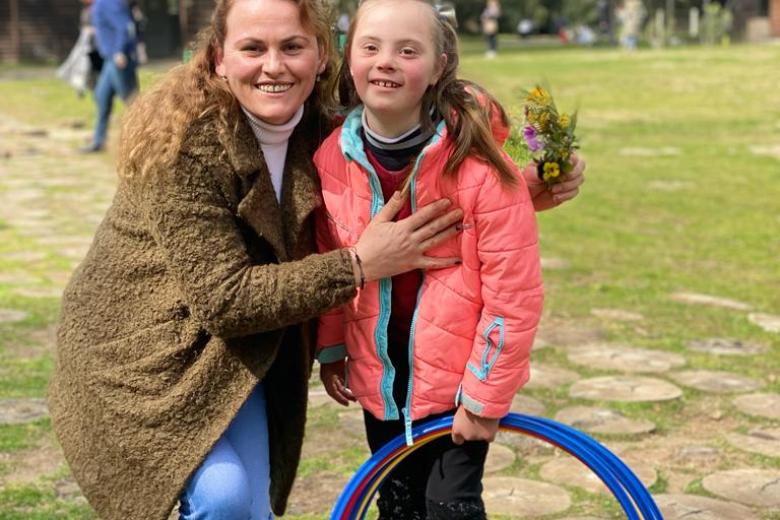 Antea found friends at the Development Space
Wednesday, June 15, 2022
"When I learned that my girl had the down syndrome, I felt as if the world collapsed in front of my eyes. But today I can say with confidence that I am the happiest mother in the world and that I am lucky that God chose to bless me with such an angel as Antea," shares Luljeta, Antea's mother, the 11-years-old girl studying at the Development Space in Kamza.
When Luljeta was pregnant with Antea, her first child, she was happy to give birth to a child and couldn't wait to meet her daughter. 
After birth, her little girl was diagnosed with the down syndrome. Now when Luljeta remembers the events of that day, she shares that when she learned about the health condition of her child she could only think of how the little girl was going to live with an illness she, as a mother, knew nothing about. 
The birth of Antea brought Luljeta an infinite happiness, even with all the challenges that she couldn't even anticipate.
"At the beginning it was very difficult to accept the reality, as it was an illness our family had no information about, we didn't know what we should do, how we should to behave, where to start, how it would affect our lives. Many questions were in my mind and I was anxious for the future," Luljeta continues.
But the days were passing, the little one was growing and the parents were adapting, yet, their concern to meet all her needs were increasing with time. When it was time for Antea to start  school, her parents were very glad to learn that there was a Development Space at the school helping children like Antea who have disabilities.
"We started to get used to the fact that our child needed more care than other children. I began to read, search information from different sources to meet my daughter's requirements. When Antea grew up and went to school, I was very happy to learn about the establishment of the Development Space and the assistant teachers at school, an environment dedicated to children with disabilities. At that point I understood that I was not alone, I found a shoulder to lean on and got answers to many of question," reveals Luljeta.
Antea attends the school and the Development Space daily. She likes to dance very much and she loves activities that make her think and act more. In contrary to the beginning, now she likes very much to spend more time playing with her friends at the Space dedicated to them.
"At the beginning it was difficult for Antea to adapt and attend this new environment. I even remember that the first time I accompanied her because it was a new unknown environment to her, and of course there were considerable challenges for her. Though due to perseverance of assisting teachers at school and my determination, we were able to help Antea start to like the space and enjoy time spent there," says Luljeta joyfully, while accompanying her daughter at school.
Down syndrome doesn't stop Antea and her mother having an active social life. Recently, they both participated in an informing and awareness activity on the topic "The impact of sport on mental health", which influenced positively Antea's behavior in society.
"I thought that the diagnosis of Antea would limit not only the girl but the family and myself in having an active social life as we used to have before. This fear would get very stressing at times, but now when she has improvements in behavior and speech thanks to the immense work we are doing every day with her, we have been able to keep our active life style as it should be," stated Antea's mother.
Antea is among 47 children with disabilities that attend the Development Space in the areas of Kamza and Bregu i Lumit, Tirana.
According to the assistant teachers, the girl has visible improvement in behavior, speech, and interaction with her peers. This progress is thanks to the lessons she received through games at the Development Space. This has been an incredible help for her mother as well, she witnesses noticeable results.
"Antea has a great time with her friends at the Development Space. She is happy to be there every day and now she doesn't need me to stay with her all time. Being surrounded by her favorite friends and toys is like a gift given to us, the best thing that has ever happened to her so far," concludes happily Antea's mother.